XAVIERA HOLLANDER PRESENTS:
Micheline Van Hautem & Frank de Kleer
JACQUES BREL and EDITH PIAF
&
IT DON'T MEAN A THING IF IT AIN'T GOT THAT SWING!
A twist of Paris and a touch of New York in the middle of Marbella's winter
---

First show: JACQUES BREL and EDITH PIAF
Tuesday January 18, 20h30 Restaurant Tres Amigos
Calle del Faro 2. Marbella Tel.
Dinner with show: price €45
Booking: 952867554 This email address is being protected from spambots. You need JavaScript enabled to view it.
Thursday January 20th & Friday January 21st 20h30
Xaviera's home theatre
Calle pizarra 184 , Rocio de Nagueles, Marbella
Tickets: €25 including one drink


In the first show 'Brel & Piaf', Micheline sings: La vie en rose, Milord, Padam en La foule, alongside her favorite Jacques Brel songs: Bruxelles, The Old Folks, Amsterdam, and the lovely Marieke. Accompanying Micheline is the fabulous guitar player Frank de Kleer - a multi talented and a super witty artist.
Second Show: IT DON'T MEAN A THING IF IT AIN'T GOT THAT SWING!
Wednesday January 19, 20h30 Restaurant Tres Amigos
Calle del Faro 2. Marbella Tel. 952867554 This email address is being protected from spambots. You need JavaScript enabled to view it.
Dinner with show: price €45
Booking: 952867554 This email address is being protected from spambots. You need JavaScript enabled to view it.
Saturday January 22nd & Sunday January 23rd 20h30
Xaviera's Home theatre, Calle pizarra 184 , Rocio de Nagueles, Marbella
Tickets: €25 including one drink
The second program is an evening filled with American standards: 'It Don't Mean a Thing if it Ain't Got That Swing.' Micheline lived for ten years in Manhattan and was inspired by Cole Porter, Gershwin and Charlie Chaplin. She makes a mélange of their repertoire with songs from: The Singing Detective: Don't Fence Me In, The Man I Love, Teddy Bear's Picnic, Accentuate the Positive and Smile. She will take you to smoky bars and jazzy nightclubs, tell stories about the writer, the singer or the song and bring back memories of the 30s and 40s. Frank de Kleer will also accompany Micheline on guitar in this show.
Xaviera gives you a choice of two different programs. A difficult decision to make, unless you come for both shows!
Xaviera's home theatre: Calle Pizarra 184, Rocio de Nagueles, Marbella, Spain
Click for Route to Villa Caprice, Calle Pizarra 184 , Rocio de Nagueles, Marbella
We prefer booking online via or theatre tickets shop >>
or call for reservations: 00 34 952857575 or email:
This email address is being protected from spambots. You need JavaScript enabled to view it.
ABOUT MICHELINE VAN HAUTEM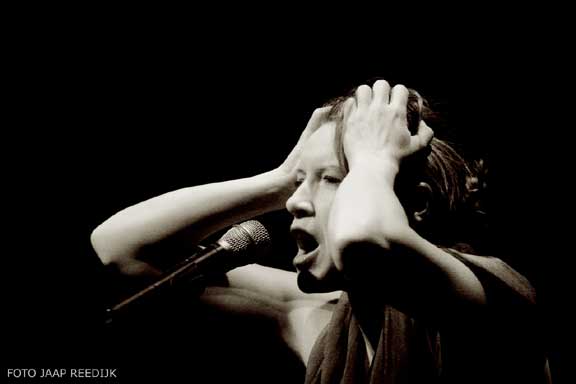 Micheline, born and raised in Ghent, stepped out into the world of music ten years ago, armed with only her voice, her guitar and her laptop. Her first stop was New York, a melting pot of nationalities and cultures. To set her apart from other grand performers in the city, the Belgian born muse sang songs primarily in French, in particular Jacques Brel and Edith Piaf. It wasn't long before she found herself performing for sold out audiences at The Florence Gould Hall in Manhattan.
The Songs of Jacques Brel led her to Edinburgh – where she was honored with the prestigious Herald Angel Award - then on to Australia, where she received standing ovations, twice selling out the Sydney Opera House.In Europe Micheline was enthusiastically received, selling out the Concert Hall in Amsterdam. Micheline was inspired by her fellow countryman Brel, and she was intrigued by the haunting music of the little French sparrow Edith Piaf
ABOUT FRANK DE KLEER
Frank made his first appearance as a musician when he was 12and that was in the style of the French gypsy guitar player Django Reinhardt. Free lemonade was Frank's only payment back then. This experience gave him his thirst for the music that he later in life specialized in: Jazz, blues, gypsy music, flamenco and South American rhythm. Lately, Frank de Kleer also performs as a magician and his sources of inspiration are Buster Keaton and Tommy Cooper. So be prepared: If the mood is right, Frank may show you some real magic tricks!
PRESS REVIEWS
"Short of major surgery, cancel whatever you have on tonight and hear Micheline Van Hautem"
The Sydney Morning Herald
"A most talented performer... this Micheline van Hautem. NOT TO BE MISSED"
New York Times
"If the key to Cabaret is engaging with the audience, then Belgian singer Micheline Van Hautem has perfected the art.... A performer with the ability to grab hold of audiences and transport them to another world" The Adelaide Review
"She is simply: fabulous!"
Robert Dawson Scott, The Times London, 5 star review
Micheline and Franks show is also promoted in cafecrememagazine.com
Press material:
Download English press-release
High resolution photo's:
Flyer, Micheline1, Micheline2, Micheline3, Foto Frank
Video Micheline: