Child No More - A Synopsis
This book is a memorial of a loving daughter to her mother, to whose memory it is dedicated. It is an honest record of suffering and of death, but overwhelmingly it is an account of life and of love, and amid the tears, there is much laughter.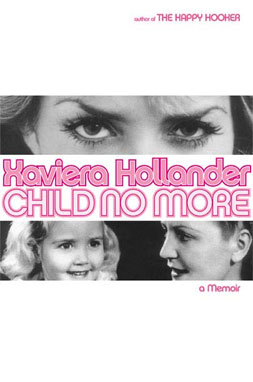 In her earlier autobiographical books, Xaviera Hollander has written with refreshing frankness of her erotic adventures and misadventures. Yet there were constant references to her parents who exerted such a profound influence on her life. Now in her fifties, she comes to terms with the inner conflicts which have tormented her since childhood and releases the flood of emotions which have been pent up for so many years. She describes how two months after she was born, she and her mother were confined in a prison camp in Indonesia during the Japanese occupation while her father, a doctor was imprisoned in another camp. Two years later, summoned to treat a sick child, he operated on his own daughter with many years after the War, fellow inmates from those grim camps, turn up again, half forgotten memories are revived but those earliest years have stayed, even as an adult she was unable to sleep without a light in her bedroom.

Xaviera's mission of self discovery takes her to her mother and father, Mick and Germaine, an improbable couple in the poisonous, hate-ridden, political climate of the years leading up to the World War. He, neat, dapper and witty, a Dutch Jewish intellectual, was a psychologist and Germaine, a daughter of conventional German parents, elegant and sensually attractive, committed the ultimate sin in the eyes of the local Nazi bullied and shaved as a sign of her shame, she fled to Holland where she recuperated and resumed her career as a model. Mick, on leave from Indonesia, met her at a party, and returned with her as his wife a few weeks later.

As far back as she can remember, Xaviera was fascinated by her father's intelligence and the wide scope of his cultural interests. He was an accomplished writer - perhaps her own literary ambitions are rooted in a desire to identify with her father - and like him she encourages meetings in her home of artists, musicians and men and women with a story to tell. But there was a sensual side to Mick's character: Germaine was by no means the only woman to find him sexually attractive and the child Xaviera not only hid at the top of the stairs to experience voyeuristically the love making of her parents but very early realised that Mick carried on affairs with other women. This made Germaine jealous - she would spy on her husband and, unable to prevent his philandering, started having lovers of her own. Unsurprising, therefore, that Xaviera grew up free of any sexual hang-ups.

Indeed, her father was her ideal man, the object of her earliest sexual desire and that set her against her mother of whom she was jealous. Of course, these emotions were infantile and she only became really conscious of them, reflecting in later life. Logically, she ought to have hated Germaine, her rival, but from the first her relationship with her mother was ambivalent. Germaine lacked Mick's scholarship but her daughter found her physical charm, her taste in clothes and cosmetics, in a word, her femininity, irresistible. Xaviera recounts the trials and triumphs of her childhood, the awakening of her sexual awareness and the attempts of Germaine to guard her against "contamination", going as far as to plead with Mick to take advantage of his status as a doctor to examine their daughter to discover whether her hymen was still unbroken.

family stress affected her development. Although she wanted to please her adored father, she disappointed him by leaving her academic secondary school to enroll in a school with a more commercial outlook. Secretarial training would give her independence and free her from Germaine's tutelage. But she could still gratify Mick: if she were to be a secretary then she would become the very best secretary in the country and that title was awarded her in a nation-wide competition. From the start, Xaviera was obsessed with the compulsion to excel and in her later colourful career, she had the same urge, as a madam, she would be the best. Paradoxically although that was a career of which her father would disapprove, her insistence on success derived from her childish desire to please him and make him proud of her. The complicity between father and daughter was evidenced by her agreeing not to smoke or drink for a year against a promise to buy her a scooter, another symbol of freedom. She has maintained this abstention from tobacco and alcohol as if she were continuing to fulfil this pledge to Mick even after his death and as long as she lives. Was Germaine jealous of her daughter: was this child closer to her husband than she was ? Certainly she exerted an ever stricter regime, spying on her dates, surreptitiously reading her diary and urging Mick to chastise her for every breach of respectable behaviour. Nothing could have been more effective in driving Xaviera into willful revolt.

Mick was not a violent man but after a hysterical outburst by Germaine who proclaimed her shock at what she had read in Xaviera's indiscreet diary, he was constrained to put the teenager over his knee and administer a good spanking. Yet when he announced that her punishment was finished, she begged him to continue, the experience was orgasmic which must have infuriated her outraged mother. Things got more serious: at eighteen she became pregnant. Predictably, Germaine demanded that Mick perform an abortion on his daughter which he refused but arranged for the operation to be performed by a qualified colleague.

Xaviera had to escape from the matriarch: a short break in Valencia gave her a thirst for the sun and the beach but made her more determined to break away from Amsterdam - she was getting bored with the boyfriends who were on offer. She found some excitement in new lesbian adventures, but only away from Holland could she find complete freedom. Yet the break, when it came marked a complete revolution in the tangled threefold relationship. Calamity struck in 1965. Mick had a stroke and though he lived on for years, he became progressively less capable. Germaine became his nurse, his companion, his support. Xaviera had a half sister in South Africa, a daughter of Mick from his previous marriage, and the South African government offered a free passage to would-be emigrants. After a year of agonising over the suffering of her idolised father and sharing with Germaine the never ending strain of nursing the man who was dying by degrees before her eyes, Xaviera fled to South Africa. Her devotion to her father was now alloyed by guilt at her desertion and her resentment at her mother's oppressive domination was supplanted by admiration for her loyalty and courage. By her own admission, Xaviera had developed into a raging nymphomaniac. Sex was not merely her way of defying Germaine, Even as a child, she had a strong though still immature, sexual appetite and when she belatedly lost her virginity, she concentrated on making up for lost time. Freed from her mother's tyranny and the more subtle guidance of her father, she lost control. Her four years in South Africa witnessed a succession of affairs, culminating with her seduction of her sister's husband and the first of her attempted suicides, using ironically her beloved motor scooter.
Then, salvation, her first truly mature love affair which led her to New York and so to her transformation from secretary to sex symbol. But it did not happen suddenly. Dumped by the man she had followed to an unknown city in a strange continent, she had the resilience and inner resources to make a dazzling success of her new life, or rather of her new lives. By day, she was the ultra- respectable office worker, the efficient assistant to the Dutch consul and subsequently to the Belgian ambassador to the United Nations. And that remained the career girl image which she preserved in Holland to save her parents embarrassment after she had turned her sexual accomplishment into a profession. For by night, she worked first as a prostitute then as a madam. After all, if she enjoyed sex, why not get paid for her pleasure ? In "The Happy Hooker", Xaviera has given a full and unashamed account of those years and it was only after the publication of the book and the enormous publicity which it attracted that Germaine became aware of her daughter's notorious life style. Persecuted by police and mafia alike, with the stench of Watergate and presidential corruption panicking the American press and public to find scapegoats, Xaviera took refuge in Canada and actually married a quiet antique dealer.
But by now she was news and much sought after in the lecture circuit and as a celebrity on TV and the strain of being Mr Hollander was too much for Frank so she never subsided into the role of respectable housewife. An ectopic pregnancy virtually terminated the marriage as well as any prospect of her becoming a doting mother. After four years, the Canadian authorities succeeded in ridding their country of their distressingly honest visitor, expelling her for such high crimes and misdemeanors as bribing the police in New York, having had sex with more than two consenting adults, and surely the most heinous offence of all, using foul language in The Happy Hooker!

But shortly before deportation, there was a more serious turning point in her life, the end of the protracted tragedy of Mick's life. In the long years of her father's illness, Xaviera was mostly absent: after his death, he became a constant presence, a beloved to be cherished, a wise guide to life and letters, and Xaviera for ever sought to rediscover this paragon, forming deep friendships and love affairs with surrogate father figures. And inevitably there was a transformation in Xaviera's relationship with Germaine. The older woman was no longer haunted by the spectre of Xaviera as a rival but she found herself confronted by her belated realization of her daughter's rip-roaring life style. Although "The Happy Hooker" and subsequent books were very different in both content and style from Mick's literary output, Germaine's dismay gradually gave way to a sort of pride in the success of Xaviera's books. And when Germaine found herself a lesbian companion who moved in and increasingly looked after her when old age eroded her robust self-sufficiency, the tension in her relationship with Xaviera faded away Perhaps for the first time, love and affection between the two women was not warped by discord and conflict. But both women worried about each other. Xaviera's restless quest for fulfillment led her into affairs with a variety of men and women from casual encounters to long-lasting and profound intimacies and she was unwilling or incapable of hiding her exploits from her mother. Flirtations in Mexico, arrest in Brazil (a breach of their dress code), cases of burglary in Amsterdam or being robbed by an unprincipled lover in Spain were certain to alarm her mother who had been nurtured in bourgeois respectability. She became suspicious of each new acquaintance and overly, though ineffectively, protective.

In gentle, elderly Jewish intellectuals, Xaviera might seriously relive her life with her father: she adopted a caring and protective role, perhaps to redeem herself for her failure to bring that comfort to her real father in those last years. She watched over, cherished and supported Eli Montlake, an expatriate Glaswegian painter until the day of his death and even afterwards in collecting and presenting his works. At the same time, she made efforts to have published Mick's literary output, neglected works of considerable talent, a posthumous tribute from a dutiful daughter to both men. But to Germaine, such men would never be other than strangers: she had no ghost to expiate. It was a relief to her when her wayward daughter established a steady relationship with one man. Although they would bicker and could be intensely jealous of each other, in her Marbella villa, Xaviera and John, an older but not yet elderly lover, companion and colleague, enjoyed something approximating to family life, while in Amsterdam Xaviera found comfort in a circle of close friends, notably women with whom relationships went far deeper than mere sex. Xaviera had always had an interest in the arts, painting, music, literature, film but above all, theatre and had periodically staged concerts or stage productions in her house. Now, these activities took an ever greater part in her life, in particular her annual visits to the Edinburgh Festival enabled her to engage outstanding performers for productions which she would present in Amsterdam. So, in her last years, Germaine had fewer occasions for alarm over Xaviera. The two women grew ever more attached to each other. As Germaine's anxiety over Xaviera diminished Xaviera's concern over her mother increased. Germaine became less physically capable and Rozetta, her companion, too crippled to be able to tend her. Xaviera was spending more and more of her time looking after Germaine. She resented her loss of freedom and was at times infuriated by the demands on her time when her own affairs were most pressing but while her mother lived, her welfare became Xaviera's first consideration. Her love of her mother was intensified as Germaine was the only lasting link in her life with Mick.

It eventually became obvious that Germaine could not continue to live in her own house, even with a living-in companion and constant visits from Xaviera. Yet she strenuously opposed the suggestion that she should move to an Old Age Home or sheltered housing. The diagnosis of cancer resolved the issue. Death did not come swiftly. Remissions were succeeded by relapses. Both suffered: Xaviera's life in the last months was utterly disrupted and she agonized over Germaine's weakening hold on life and the degradation of the gradual loss of her faculties. Germaine not only underwent the pangs of dying but constantly grieved at the pain this was causing her daughter. When she passed out of life peacefully, it was a blessed release. But not for Xaviera. Although the frightful physical strain had passed, she was impelled to look after all the funeral formalities personally and spared no effort to ensure that Germaine was celebrated in her death, as she would have wanted. Both parents dead, Xaviera was alone as never before in her life. She had long lived an independent life yet her parents were ever present in her mind. So in her mid-fifties, her childhood has come to an end. One last task remains. The child honours her parents and needs to create a memorial to them, something, more significant than a slab of stone in the cemetery. Hence this book, a voyage of self-discovery through three lives.