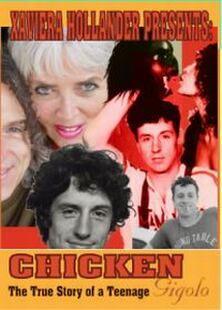 Xaviera Hollander presents:
CHICKEN - the true story of a teenage gigolo
Written & Performed by David Henry Sterry # 1 Play in America

This is the true story of a 17 year-old All-American boy who gets seduced into the sex business. With 70's music playing in the background, Sterry portrays everyone from his nun/teacher to his employment counselor/pimp, his sweet girlfriend to the man who took advantage of him, his naïve, but charming 17 year-old self to the love-hungry ladies who hired him. Breathtakingly honest, heartbreakingly poignant, surprisingly funny. This is theater that is raw, smart, and universal.

As an appetizer THE GALLERY DONKERSLOOT AND XAVIERA HOLLANDER offer an erotic "Extravaganza fashion show" with Mira Bachvarova and her friends. http://www.gallerydonkersloot.nl
DAVID HENRY STERRY
www.davidhenrysterry.com

David Henry Sterry is both writer of and performer in the one-man show Chicken, based on his San Francisco Chronicle bestselling memoir Chicken: Self-Portrait of a Young Man . He is also the author of Satchel Sez: the Wit Wisdom & World of Leroy "Satchel" Paige (Crown, Random House, 2001). His next book will be Putting Your Passion into Print (Workman Press, 2004). Two of his stories are featured in 5 Minute Erotica (Running Press, 2003). He has written for, among others, The London Times, Penthouse, The Hairy Orangutan, The Scotsman, and The SF Chronicle.

He started as a stand-up comedian in SF, performing with everyone from Robin Williams to Milton Berle. As an actor he has worked everywhere from Lincoln Center to the Magic Theater, with everyone from Will Smith to Michael Caine, David Letterman, to Zippy the Chimp.

He has been a TV pitchman for AT&T, Levis, and Isuzu, performed in over 500 commercials, winning 4 Clios. He starred in CTW/HBOís Emmy Award-winning Encyclopedia, and was the emcee at Chippendale's Male Strip Club in New York, winning Cabaret Performer of the Year.

His plays have been performed at PS 122, the West Bank Café, and the Duplex. He has written screenplays for Disney, Fox, and Nickelodeon Pictures. He has worked as a chicken, a chicken frier, a paperboy, a soda jerk, a cherry picker, a poet, a building inspector, a limo driver, a baby sitter, a barker, a women ís soccer coach, and a marriage counselor. He graduated from Reed College, and loves his wife, his cat, and any sport involving a ball. David Henry Sterry has been featured in (among others): The New York Times, The London Times, The Sunday Times, Sunday Independent, The Los Angeles Times, The Guardian, The Washington Post, New York Magazine, Elle Magazine, Details Magazine, CBS 48 Hours, NBC The Other Half, BBC Radio, BBC Scotland and Newcastle, and NPR Morning Edition,Weekend Edition, and Talk of the Nation. He recently completed a twenty-five city international tour of Chicken.

The book is being optioned to be made into a film. It was published in the UK in April, 2003, and is coming out in Dutch, German, Croatian, and Spanish. The show, at the Assembly Rooms of the Edinburgh Fringe Festival in August, 2003, was named the Number 1 play in Great Britain by The Independent.

Because of his life on the streets, he now volunteers doing outreach with homeless kids on the streets of San Francisco, and running writing workshops with people from the sex industry. In July, 2003, he was a speaker, and ran a writing workshop at the "Breaking the Silence" Youth Summit in Washington, hosted by the Department of Justice, GEMS and the US Campaign against the Commercial Exploitation of Children, 17-22 year old survivors from all over the country gathered to try and change the world.
CRITICS ABOUT CHICKEN
"A tour-de force."
SF Bay Times
***
"Sextacular." -
Beth Lisick, SF Gate
***
"Frank, funny and surreal."
The Stage
***
"Pick of the week" "Hysterical."
The Guardian
***
"Hard-hitting and universal."
Time Out San Francisco
***
"Irresistible, very enjoyable." "radiates honesty. Funny, physical, and fast"
The Scotsman
***
#1 Play in Great Britain.
-The Independent
***
"Poignant". " a rare pleasure." "moving and original." " revealingly honest." Sterry is a sharp comic, using his limber body and versatile voice to create memorably portraits of the hungry, lonely, wealthy women who employ his services." "Sterry needs no other prop than a wooden bench to get full mileage out of the ludicrousness of sex. But what gives it depth is the hard, sad reality beneath its Rabelaisian humor." "Richly entertaining and thought-provoking." "Speaks cleverly and provocatively to anyone who's ever been or had a child."
Robert Hurwitt, Head Theater Critic to The San Francisco Chronicle
***
"Packed full of energy, the show is fast, provocative, and highly engaging." Jumping to the beat of his poetic script, the dialogue leads David around every square inch of the stage. It is simply unmissable"
The Herald
***
"What a rare pleasure it is to see a writer perform his own work . Dream-like profundity. "Sterry's portrayal of his 17-year-old self is immediately honest and believable." "Juxtaposed with his masterful control of poetic dialogue balances the show."
SF Examiner
***
"On an almost empty stage [Sterry] summons up in glorious technicolour an amazing array of characters." "Extraordinary engrossing and touching." "A a great story . It is a must!"
Daily Mail
***
"Graced with insight and empathy, Sterry finds a literary rhythm as fluid and alluring as the strut of his nuthugging elephantbells " a sense of humor as bright and ridiculous as a blood-engorged wangdangdoodle- hammer."
S F Weekly
***
"Hugely compelling to watch , real skill." "The story is told in deft snippets." "the language is poetic, and a 1970s soundtrack gets the audience in the mood."[a] triumphant story. It ís clear that this is a comedy hiding in a tragedy."
The Independent
***
CHICKEN: THE BOOK
"Sterry writes with comic brio [he] honed a vibrant outrageous writing style and turned out this studiously wild souvenir of a checkered past." ? Janet Maslin, New York Times
***
"A compelling work." Steve Jelbert, London Times
***
"A beautiful book. a real work of literature. Wonderfully written." Vanessa Feltz, BBC
***
"Priceless material" Details Magazine
***
"Humorous and charming" Outrageous and entertaining." Michael Williams, BBC 1
***
"A breezy read, pleasingly free of self-pityÖ very funny." The Observer
***
"Jawdropping. A carefully crafted piece of work. Benedicte Page, Book News, UK
***
"A 1-night read. Should be mandatory reading for parents and kids." Bert Lee, Talk of the Town
***
"Few rites-of-passage tales can match up to this one." The Scotsman
***
"Hilarious." The Guardian (London)
***
"Alternately sexy and terrifying Chicken is a hot walk on the wild side of Hollywood's fleshy underbelly.A coming-of-age classic that ís colorful, riveting, and strangely beautiful. David Henry Sterry is the real thing." ?
Jerry Stahl, author of Permanent Midnight
***
"A standup comic's sensibility, tone and timing. I read the book from cover to cover in one night, unable to put it down."
Eliza Thomas, Places Magazine
***
"Farcical, sad, perceptive." Reality porn for the sophisticated reader."
The Sunday Herald
***
"Chicken is both funny and disturbing." RTE TV Ireland
***
"Compulsively readable and very funny. Rarely has the mentality of sex been so scrupulously observed and reproduced. Sterry clearly possesses the storyteller's art." Phillip Lopate, author of Portrait of My Body
***
"Impossible to put down. A fast-paced jazzy writing style. A great read." Hallmemoirs
***
"Full of truth, horror, and riotous humor." The Latest Books
***
"Filled with wit. expertly told escapades. A really good,enlightening, read." Leeds Guide
***