Xaviera's X-mas & NEW YEARS WISHES...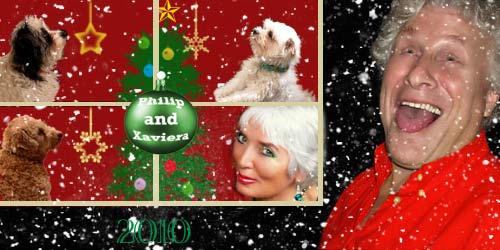 ARNOLDO IN POLAND
October, 2009 my dear friend Arnoldo ( 26), a true Don Juan, who assists me occasionally with the Bed and Breakfast business decided to visit a woman he had met while walking my dogs in the nearby Beatrix park. They had a short lived love affair... and that was enough for him to use his 10 day vacation he had planned, to look her up in Poland. With not much more than a little bit of money, a few bits of clothing but two big boxes of condoms to see his polish lover. He took the train to Poland... only to get stopped at the border in Chechin and shortly after to be arrested for NOT having a visum to enter the country! He was treated more like a real criminal than someone who accidentally had forgotten to apply for a visum. The treatment he got was rude and soon he even had his jacket stolen and at night when it got very chilly in jail he was almost freezing to death as the horse blankets were so dirty and smelly that he refused to sleep underneath them. In short... Arnoldo had a miserable time and was kept imprisoned for over a month. Even my financial assistance for a lawyer did not help him get out. Only his own consul managed to finally convince the bureaucrats that he would be better off in Amsterdam again.
LIFE IS A PUZZLE
Well, now I found myself in a real panic situation and luckily, after 2 weeks of frantic searching for someone to look after my 3 cats and 3 dogs as well as the B&B business in Amsterdam our good friend Hans van Raam, who is an actor for childrens theater but also a computer geek and had some free time on his hands... helped us out and , like the proverbial puzzle which is my life.. I managed to put all the pieces at the right place at the right moment.
A NEW BED AND BREAKFAST AGENCY ACQUIRED RECENTLY
On top of this all I had just purchased a brand new Bed and Breakfast agency from my dear friend and webmaster Willem Hein. Obviously that meant even more responsibility, which is just about all I did NOT need at that time. Again Hans put me at ease and convinced me he had the situation under control, so now I manage not only the www.xavierahollander.com/sleeper website but also www.absoluteamsterdam.com and with Arnold finally freed again I can only say I sighed relieved when I got that phone call and I know my business would be in good hands again.

MARBELLA FILM FESTIVAL October 2009
We could not wait around in Holland for Arnolds return as we really had to leave for Marbella. Our film director Robert Dunlap was also flying in from Hollywood and Philip and I simply had to be at the opening night of the Marbella Film Festival. MARBELLA FILM FESTIVAL september 2009.


In Marbella we had several lovely house guests, a.o. : Robert Dunlap and our producer John Patti. John had been in Amsterdam for about 10 days prior to our joint trip to Marbella. There in my house it was just about every night Party Party time, specially with his spontaneous birthday bash out in our garden with Indian summer weather. Pauline van Antwerpen recited a witty and emotional poem she wrote specially for me, while Lisa Lipkin, a famous Jewish story teller friend of mine from New York was telling a story about schtupping... Jewish for having fun sex. It was hilarious and there was also the well known trend watcher Adjiejd Bakas present in the audience, who instantly invited Lisa to be the mistress of ceremony for the launching a month later of his newest book : De toekomst van werk (The future of work) .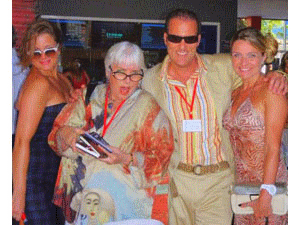 William Shatner of Star Trek fame opened this Marbella Film Festival and obviously won it as well. Not difficult to predict. At most film festivals Philip and I attended we noticed over the years there is a lot of '"buddy buddy politics"going on. Nevertheless Dunlap and Patti had a good time and we all enjoyed the great weather and relaxed ambiance at the villa. We were also joined by Warren Wills, the charismatic well known Australian composer of the musical about my life. He was invited by the organization of the film festival to devote one festive evening to our musical at the Locrimar hotel near the Puerto Banus. So he was accompanied by two female singers and a pretty camp male singer. The tunes were catchy and melodious and were very well received by an enthusiastic audience.

In the meantime I had met Sally Anne, an adorable woman with her sweet daughter of 17 , who offered her services as a private chauffeur and guide for my guests and the new liaison between her and the "boys" was an instant success. She also turned out to be a great cook and thus when the Film and musical people had left, she assisted us at our dinner theater event. Her profiteroles and cakes were superb and her charming personality and cheerful temper were most stimulating for everyone around her. And so we now have added yet another new friend to our growing bunch of people we like on the Costa del Sol.
TALLULAH AND THE BOY
Inauguration of my brand new Home Theatre at the Villa Caprice on October 23, 24 and 25, 2009. My very first official 3day program of Tallulah and the boy was well received at the Costa del Sol.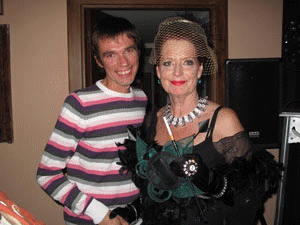 Luck had it that a nice Dutch carpenter built a super wooden stage of 2 x 2.50 meter right in my living room of my villa in Marbella. Then there were the 35 colorful chairs Philip found on sale for a rock bottom price. Black curtains were brought in from Holland and professional stage lights and sound equipment as well, not to forget the keyboard Warren has loaned me for indefinite time comes in useful . Et voila our official home theater was ready to be inaugurated.

Tallulah, performed by Claire Wilkinson and her pianist started off a bit shaky as the actress had a mild bronchitis but the second night it all went a lot smoother. It was a show about this legendary American naughty hard living and boozing actress/comedienne Tallulah Bankhead , whose reputation was that of a pretty wild seductress who loved both men as well as women. She had almost died after a total hysterectomy when she had caught a very heavy case of the clap from her affair with Gary Cooper after which incident she wisely went back to lesbian lovers. Her famous last words on her deathbed at the relatively young age of 66 were: "Coke and Bourbon."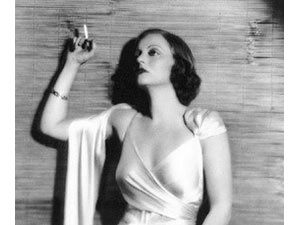 It was hard for a lot of people around her to keep up with her enormous energy. A problem I noticed a lot of people have with me as well. Tallulah and I sure had a lot of characteristics in common.She smoked over one hundred cigarettes per day, drank gin and bourbon like they were water, (Now....THERE we differ like day and night as I never smoked cigarettes nor drank any alcohol) and carried a suitcase-full of drugs to help her sleep, stay awake and just function in general.
She had a mouth and wasn't afraid to use it! In addition to her wild personality, Tallulah was known for her wit. Often quoted, she liked to have the last word on everything. "The only thing I regret about my past is the length of it. If I had to live my life again I'd make all the same mistakes - only sooner." Of her own behavior she said, "Nobody can be exactly like me. Sometimes even I have trouble doing it."
And... everybody she had slept with was referred to as "Dahling" as she did not want to take the trouble remembering the names of all her victims.
What the press says about their show:
'An evening with a touch of theater about it.'
'A blast from the past', 'a touch of New York'
'The costumes, hat changes, hairstyles all adding to the glamor and theatricality.'
'A singing actress with great emotion'
'Something that's been missing along the coast'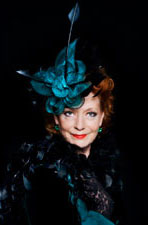 What made this event all the more exciting is the fact that my adorable husband Philip, who not only is my right hand man in promoting just about any project I support, but also is a fine cook … came up with the concept of a 'dinner theater'. My three dear friends : Anna Florian, who is like my girl Friday and comes in from London each time I produce a play, Sally Anne, a new girlfriend and last but not least Carla May, my Surinam friend, pedicure and cook, they all made in particular the dinner event on Sunday into a real success. The weather was superb, people came from as far as Malaga and Gibraltar.
AMSTERDAM GETTING CHILLY AND - - - XIE HOMESICK FOR THE BIG APPLE: NEW YORK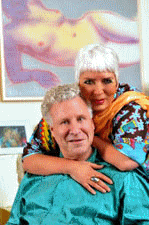 We returned to Amsterdam early November and were happy to be reunited with Arnold again and see that business was not all that bad after all, as last year it had been disastrous round the same time of the year. We were barely back two weeks or off we went again, this time it was the charm of the big apple New York calling me. I was homesick for some of my best friends I had not seen for over a year. So up up and away we went again. Originally I had told Philip I wanted to unwind a bit in Manhattan, but that is about the last thing we ended up doing while there. Little did I know the planes seem to have shrunk in every which way: there was barely any knee space, and the chairs were extremely narrow but maybe that was also a result of MY bigger hips and belly :-)

It was great to meet up with the likes of my inimitable girlfriend Veronica Vera and her sweet deep voiced man Stu, who would occasionally dress up as a French chambermaid or Britney Spears. Then there was an emotional encounter with my Canadian friends who had just moved from Toronto to New York Madonna..... (no not THAT one, the singer !), but a clever blond script writer and TV person and her sweet brilliant husband Michael Meissner ,who resembled my ex husband Frank a lot , who has died only a few years ago.

Then there were my friends I know from way way back in Zihuatenejo Ruth Lapin ( Ms. Rabbit freely translated) and her man Brent. They live in a spectacular place in the Bronx and a select group of a dozen people enjoyed a terrific meal there one night.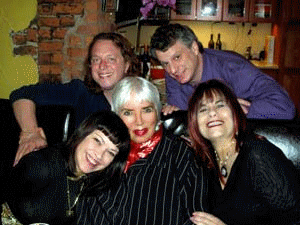 I had arranged to stay at Hugh Loebners place on West 98 street and Broadway.. all the way up town but sure a hell of a lot better than staying in an impersonal overpriced and probably undersized hotel in Manhattan. As I don't DO subways this trip cost us a hell of a lot of money in taxi fares as we zipped up and down town all day long. Hugh and I go back many years. He loves hookers and I usually introduce him to some new nubile young woman. In this case it was Judy Merrick, a terrific and very sexy tall and Amazonian actress whose show Knuckleball Philip and I were most impressed by when we were in Edinburgh this year. As she was low on cash flow and Hugh 's apartment sure needed a thorough cleaning job she offered to help him. The pay was right. Us $ 100 for 5 hours work ain't bad. He even would add another $ 50 if she would go topless. And so she did apparently. Her body is strong and lean and her boobs are real and soft and very nice. Judy trains at a boot camp course and is a tough cookie to meet in the street at night in case you want to rip or rape her. She has an angelic girlish face but a brain like a very mature woman and a sharp tongue.

Hugh is a genius maverick and inventor of the Loebner price. We have come to an interesting deal: we each spend a similar amount of days at each others houses once a year.
He just comes round summer time and organizes his Loebner award, which often takes place in London and then he flies to Amsterdam where we let him have the use of Philips lovely down town apartment but Hugh would still walk each day to my house to enjoy our delicious breakfast service , to check his emails on my Wifi but more so to see if there were any interesting young female bed and breakfasts guests to flirt with.
SONY VAIO LAPTOP BABY
It was great shopping with Hugh for a brand new state of the art Sony Vaio Laptop sorry I am not into Mac's yet (Red. allthough her windows laptop has been away for software fixes allready for 2 weeks) and still like to stick to my windows!! We bought this beautiful silver baby at a very Jewish shop B & H full of orthodox jewish salesmen and open of course on Sunday. We came to a very good price, a lot less expensive than if I would have bought it in Amsterdam. My webmaster is fixing my baby up so we can take her to Spain in a few weeks time.
THEATRE IN NEW YORK
We came to enjoy some peace and quiet in New York but somehow with the dinner party at Ruth and Brent and the usual BIG BASH at Bryan and Shannon Mechuchan and their adorable little girl there were a lot of things to be prepared. We had little or no rest in between appointments. Contacting all my friends, even Master Clyde my ex lover and now also retired headmaster English, (presently married to wife number 5, a bright Cuban schoolteacher ) showed up. His once very long hair had now been trimmed short. Since we separated abut 6 years ago he has had massive heart surgery as well as a mild stroke but still is chipper enough to go out on his boat in the summer time. Only his speech and some hand movements are slightly impaired. We all went to a delightful one woman show by CARRIE FISCHER, daughter of Eddie Fischer, (the famous crooner) and Debby Reynolds, (the actress). I had in previous years come to enjoy some of Carrie Fischers witty books and this show about her life growing up with all these celebrities called WISHFUL DRINKING was great fun to watch and listen to and yet there were some pretty dramatic scenes as well. What with her openly telling the world she was a hopeless alcoholic, no matter how many clinics she had booked herself in to stop drinking or popping pills. She simply had to come back to her best friend: the bottle.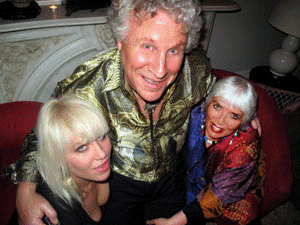 Coincidence had it that many many moons ago in my Happy Hooker days I bumped into her dad... (who she now describes as any other Chinaman in Chinatown due to his many facelifts....) he was then of course still a fairly young and attractive man, married to Liz Taylor... who was apparently a total drama queen and could not be left alone to her own devices for one second or she would freak out. Well , we managed to get together for a while without Liz's supervision. I ended up hearing a lot of Hollywood gossip and eventually he even donate me his gorgeous and tight leather pants which I admired on him. Would you believe we had the same size in those days and he was quite slender. Shortly after we separated I gave the pants to what later on became my husband Frank, who never knew what famous tochus had been in them before he got them.

As we only had about 10 days in New York there was little rest in between happenings Veronica Vera had sent me in the past some delightful burlesque dancers as guests at my bed and breakfast and this time it was their turn to invite us to their show at the Slipper room. Now Burlesque is a rather new phenomena in Europe, though it basically is a derivation from the old fashioned Striptease. Here is what Wikipedia has to say about this topic: definition of Burlesque
From Wikipedia, the free encyclopedia, For other uses, see Burlesque (disambiguation).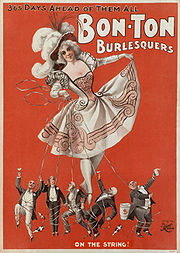 Burlesque is a humorous theatrical entertainment involving parody and sometimes grotesque exaggeration. In 20th century America, the form became associated with a variety show in which
striptease is the chief attraction.

The term burlesque may be traced to folk poetry and theatre and apparently derived from the late Latin burra ('trifle').The origin of the term 'burlesque' is contentious with most citing the French burlesque, which was, in turn, borrowed from the Italian burlesco, derived from the Spanish burla ('joke') as its root. Its literal meaning is to 'send up'
Veronica Vera, a well known figure in New Yorks sexy night life, with friends in the gay, straight, transvestite, hooker and burlesque scene introduced us to the Slipper room Burlesque show. We were treated like royalty, got a big bottle of veuve Cliquot and front row seating. The music was lively and varied. The theater had a vaudeville kind of touch with lots of red velours covered chairs and matching curtains. 5 musicians were playing during the shows music from blue grass to jazz, mellow and sexy but mostly the ragtime tunes still come to my mind a few weeks later.

There were 5 lovely women performing and the owner of the place James Habacker who was also the artistic Director introduced us to all the girls.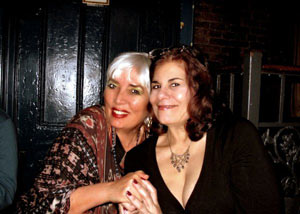 He proposed to treat us to a nice show in Amsterdam towards the end of November in exchange for a few nights stay for all 6 of them at our Bed and Breakfast. As it was a relatively quiet period of the year I instantly agreed. They had booked a few other gigs in town and would be honored to give me their BEST show. Of course this was an offer I could NOT refuse even though it had been several years since I last produced anything on stage in Amsterdam. As soon as I entered Hughs flat I climbed into my computer and send off the invitation to all my friends and one time theater visitors. And.. low and behold within a few days I had 30 seats booked which is about all I could handle since the girls needed a fairly big stage to show off their fabulous costumes. So that meant I still had the old magic touch to draw crowds to my home theater.
THE TWO JOHNS IN NEW YORK – MOVIE AND MUSICAL TALKS
In the meantime John Patti had flown in from Hollywood to introduce me to what he had been raving about as being THE man, John Corso, who would finance our Musical project with Warren Wills.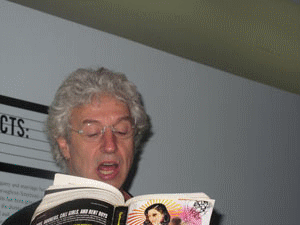 I had hoped to get involved in a more serious business talk, but that conversation never quite got off the ground. John Corso had however arranged for a showing of our documentary at the Gay and Lesbian rights Center on 208 West 13thStreet. I had informed once more my most devoted friends who had never seen the movie: my Chinese American girlfriend and writer Hsinya, Lisa Lipkins feisty Hungarian Jewish Mother Sari who had so kindly invited us all to her private club the day before, Madonna and Jane Korijn who also had taken us to a delicious luncheon soon after our arrival. Then there were Brent and Ruth Lapin as well as their best friend Jim Offutt, who gave me a lovely handbag from the make he represents as vice president of the New York branch: Coach.
Then there was, not to forget my co author of the Happy Hooker, Yvonne Dunleavy and her Dutch husband and not to forget the hall was chocker full with Real New York fans, mostly all gay or transgendered and of all ages. In fact there were quite a lot of people half my age, who all had heard about me or read my book. Many books were sold after the movie was shown. What was fascinating to me was to listen to their reactions and watch their faces at certain scenes. THEY laughed at all the right places , where nobody else who had seen the film anywhere else than in in New York had reacted so well. This film was obviously SO much NEW YORK, the feeling of this movie and after all this is where it all took place.
PLAYBOY RADIO CHAT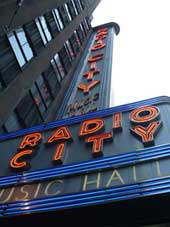 Off again the following day to a radio show across the road of the Radio City Music Hall for Playboy channel. I had a sore throat from a lingering cold, and too many late nights and lots of chatting and was getting a bit fed up with the hour long traveling in the congested traffic, even though the weather in Manhattan was absolutely fabulous: Indian Summer like and that in November.! If I had a few million dollar I could easily live here again but would love to get a nice place in mid town Manhattan and not in the suburbs. I began missing my regular short naps as it seemed our days were as hectic as our nights and not much time to recharge my energy batteries in between. Ah well, here is the radio program that actually turned out quite nice even though my voice was lower than usual but also more sensual according to the interviewer. The ambiance in the very modern studio was great and the prospect of 12 million listeners tuning in gave me a kind of high. Here's link to the interview in Radio City Music Hall for Playboy channel
DOCU SHOWING AT GAY AND LESBIAN COMMUNITY CENTER
My dear friend Geoffrey Buttler had offered to be our private chauffeur in the evening hours and while driving informed us of the latest goings on in town, what has become of my ex boss Bob Guccione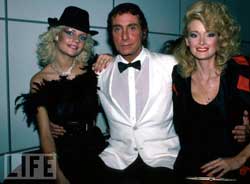 of Penthouse fame and the SM scene in Manhattan, which had more or less died out after dominatrix/film maker Ava Taurel a.k.a. Eva Norvind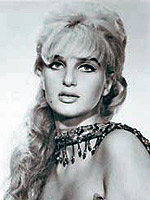 had drowned in the Mexican Ocean a few years earlier. My faithful fan and year long "slave girl "Franny' whom I have known since she was 21 had been her dutiful secretary for years and was devastated by her death. Of course Franny was also part of my devotees in Manhattan and she showed up dutifully at the MUSEUM OF SEX , 233 5TH AVE where I was to cross swords with a dear friend and actor/writer I have known for years called David Henry Sterry, who had just published a book called:HO'S, HOOKERS, CALLGIRLS & RENTBOYS: PROFESSIONALS WRITING ON LIFE, LOVE, MONEY & SEX. After our mutual readings and discussion with a fully packed audience, a.o with Clyde again this time without his Suzanne... and all my other close friends Veronica Vera arranged a LIVE HOT SHOW with TRANNIES FROM her own FINISHING SCHOOL FOR BOYS WHO WANT TO BE GIRLS the most fun to watch and listen to were the Sissy girls, two adult men who preferred to go through life as two five year old girls with piggy tails and petticoats, pink socks and queenies.
ALL WIGGED OUT
We ended up with a small group at Veronica's tiny and therefore cozy studio. There was Leslie Barany, the swarthy Hungarian Jewish artist and friend/agent of the famous Swiss painter Giger (the Alien) I have known Leslie for many years. He looks broody and almost macabre with his dark piercing eyes and thick mop of white hair, yet he is one of the kindest and most sensual men I know in New York. Earlier that night he even spoke Hungarian with Lisa's mother at the movie event.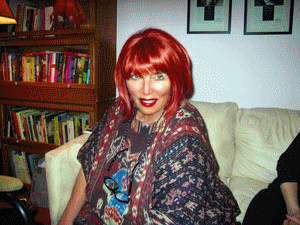 Then came along also a sincere fan from way back..Vincent, who I know as one of my first young virgin boys I had during my Happy Hooker days. He was then absolutely gorgeous and shy and ---- great in bed once he had had his first lessons in love.
Many years later Vincent who now owned race horses tracked me down via the net and up till today we are still great email pals. There was Savannah, www.veaux.org a sexy young female fan and photographer, Stu of course, (Veronica's man) , Philip and I and not to forget Franny. We had chipped in with some food and drinks and a terrific time was had by all of us. Specially when Veronica started to put the most extravagant multicolored wigs on our heads and of course the cameras started flashing. So hence the series of fun pics.

The party at Bryan and Shannon in Brooklyns fanciest part was once more an unforgettable event. Bryan and Ruth Lapin had arranged a spread of delicious turkey and a huge finger licking dish of great pastrami ;others brought salads, different kinds of bread, more salads and WE took a whole bunch of Dutch cheeses along. Clyde who also showed up had arranged a terrific theatrical act by a charming couple: a Jewish man in his mid forties and his fiery black wife. This couple had been married for 25 years and written and performed the play about their tumultuous but happy interracial marriage which was suitably called: The black and the Jew. There was the usual crowd of both pretty and pretty interesting people , Andres Serrano, the infamous photographer of Piss Christ fame showed up with a very attractive Russian girl, in fact the same he has had for the last 5 years . Once upon a time I helped him put a picture book of extremes together, which was called A history of sex and then there was his other famous book: the Mortgue.....

Booze was flowing generously, food disappeared in no time , we laughed, we hugged, we talked and nobody got out of hand.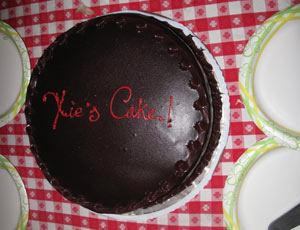 By the end of the night I think our hosts were totally exhausted.. And this is the third time they have arranged such a fabulous get together for about 40 people with me as their guest of honor. I think next year Hugh Loebner will probably make his place available for a party so Bryan and Shannon can sit back and enjoy being guests rather than hosts. Last but not least there was the massive unforgettably tasty million calories chocolate cake which Clyde and Suzanne had brought along to close the party with.
BACK TO AMSTERDAM – BURLESQUE AT THE STADIONWEG
Being back in chilly Amsterdam was soon to be compensated by the warmth and friendly ambiance my Slipperroom cast brought with them when they marched into our house , schlepping heavy suitcases full of costumes, wigs, make up boxes, false eyelashes, high heels and sexy tanga slips
and whatever other gear dancers of that caliber need for their show.
The girls, whose stage names were: Bunny Love, Harvest, and Julie Atlas

Each had their own wonderful style and story line for their acts. They were not the very youngest of girls but even in their mid thirties their bodies were immaculate and well trained and not augmented by silicon or botox.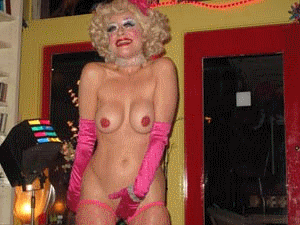 Those women work damned hard to present their demanding public each time with eyegasmic shows, so they frequently change their scripts and costumes. Where as 10 years ago few people had heard about burlesque nowadays there is a lot of competition in New York where suddenly the burlesque joints are popping up like mushrooms. This means both a lot of competing young starlets but also for someone as famous as Julie Atlas a hell of a lot more work. And yet by the end of their trip they went back to New York quite penniless but they had a terrific time.

I was extremely surprised that EVERYBODY in the audience in my living room had had a great time: Old and young . One of my girlfriends even had brought along her 91 year old dad who LOVED it and even wanted to make a date with one of the girls. Philip cooked them a great meal the night they arrived and vice versa on one of their few free nights Brent and James , who were the right hand men for this group of lovelies cooked us a festive chicken dish , almost everyone was mostly vegetarian and lived of healthy food. I will definitely try and bring at least one or two of these ladies to Spain, when and if the expats in that part of the world are ready for this rather titillating spectacle, which may not be for a while yet.
OBITUARIES 2009
MICHAEL JACKSON
I am sad to say that apparently each time I start my newsletter, which is about once every 4 months, a dear friend or well known person has passed away. Not too long ago Michael Jackson died and what a spectacle that was , the hullabaloo around his death and how he went. The movie THIS IS (NOT) IT that was churned out by his family and got a lot of mixed reviews from his fans was the last souvenir of this world wide star.
RAMSES SHAFFY
August 29 , 1933 till december 1, 2009 A few months after Michael Jacksons spectacular death our own national famous and adored chansonnier RAMSES SHAFFY died of esophageal cancer. He was a Dutch-Franco-Polish-Russian-Egyptian mixture of Tom Waits and Frank Sinatra: Ramses Shaffy! With his spirited, lively and touching songs he seduced the Dutch, who - at least until the late 1960s - were renowned for their lack of flamboyance. It's said that during the 1960s everybody in Amsterdam was in love with him. And it was reciprocal!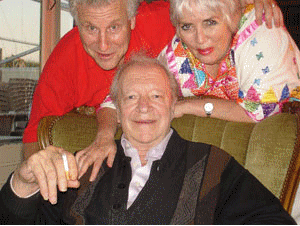 Born on August 27th, 1933 in Neuilly-sur-Seine (France), Ramses Shaffy spends the first six years of his life in Cannes, together with his mother, a Polish countess of Russian origin. They have no contact with Ramses' father, an Egyptian diplomat. Ramses will meet him for the first time in his life half a century later, during the 1980s. When Ramses is six years old, his mother is taken seriously ill and sends her son to an aunt in the Netherlands. After this aunt has fallen ill as well, Ramses is adopted by a Dutch family, and receives an excellent education. During the 1950s, Ramses soon becomes a very promising actor, but ten years later he decides to choose for his real passion: music. In Amsterdam, he starts his own music club: Shaffy Chantant. Together with other gifted young musicians and actors he sings his own songs and recites poems.

Shaffy Chantant is not only the start of his own musical career, but also launches Thijs van Leer, who some years later is a world star with his group Focus. During the swinging 1960s the passionate, poetical and libertarian Ramses Shaffy becomes a legend. Some of his songs now are classics: 'Sammy', 'Zing-vecht-huil-bid-lach-werk-en-bewonder' (Sing-fight-cry-pray-laugh-work-and-admire), 'We zullen doorgaan' (We shall go on), 'Het is stil in Amsterdam' (It's quiet in Amsterdam).

During the 1970s alcohol more and more dominates Shaffy's life. He is a man of many passions; especially for life itself, but also for vodka. In 1978 once more he has a hit-record, with the meaningful title of 'Laat me' (Let me be). One decade later he has won his battle with the bottle, but inspiration has left him; besides some notable exceptions, he doesn't write many songs like he used to do anymore. However, he successfully starts acting again. During the early 1990s Shaffy once more is applauded, playing Don Quichotte in the musical 'The Man of la Mancha'.
Unlike many other Dutch singers, Ramses Shaffy's mostly sings in Dutch (although his first record in 1960 was in English). However, occasionally, he does shows in English as well. For example in 1975, when after his show 'Ramsessie' during the night he repeats the whole show in English, called 'Ramsession'. In 1991 he interpretes the songs of one of the people who inspired him: Frank Sinatra.

Five days after a last performance Ramses Shaffy dies peacefully in Amsterdam on December 1, 2009.

Liesbeth List and Shireen Strooker his two closest friends preferred to keep the burial ceremony very private so on Monday December 7 THEATER CARRE has opened its doors to allow thousands of his followers to pay hommage to this great artist , and so we all passed in silence the beige coffin with his body covered by a multitude of red roses and multicolored bouquets. His official funeral took place at the Zorgvlied cemetry, apparently not far from where my own mother has been buried.

I personally prefer Rames's songs when performed by him at a later stage in life, when his voice was more mature and lived in and even suffering from korsakov syndrom he always could sing. The following film, which still puts tears in my eyes each time I listen to it is my all time favourite:
2010 JUST AROUND THE CORNER
We ourselves are off to Marbella, Spain again mid December where we shall stay until Jan. 19. This brings to mind that I would like to mention my next show I will produce in Marbella and well the NOW YOU'RE TALKING SHOW from Sholom Aleichem with Saul Reichlin: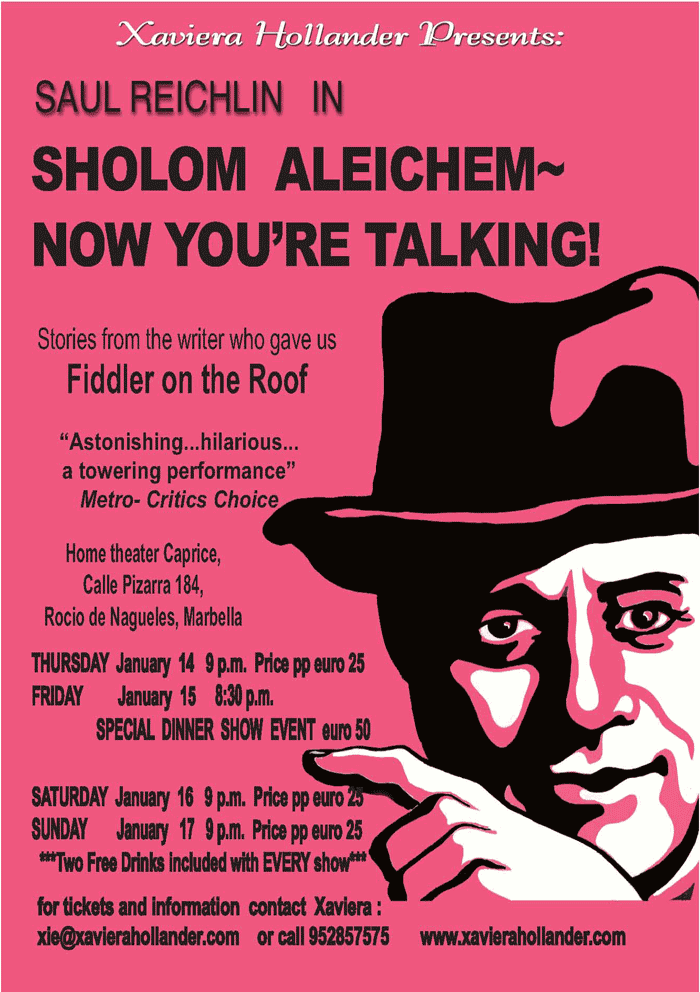 For the New Year Xaviera Hollander presents :
NOW YOU'RE TALKING
with Saul Reichlin, Stories by Sholom Aleichem

A unique one- man dramatisation of the poignant, hilarious, classic stories from the creator of the beloved Fiddler on the Roof. For the festive season, life affirming and timeless, this superb presentation is abundant in the wisdom and humour of the shtetl
" Electrifying ... a fabulous talent... world class show... take your entire family..."

More information on this page
Just heard the great news from Hollywood: our documentary has finally been accepted by the American documentary station and .... will be shown all over the USA on January 26 somewhere in the late evening when most kids are in bed already. For more information check back with me mid January.

Here are our travel plans for the coming winter. Back in Amsterdam till Febr. 1 and then off to Florida, visiting some great friends and travelling around to Georgia with in between a visit of 10 days to Guatemala. Final nights will be spent in Ft. Lauderdale from March 1 till 5. and on the 5th there is the showing of my docu and booksigning at the Museum of Art, One East Las Olas Boulevard, Florida 33301. So anyone living in that neighborhood please drop by.

And here dear friends.. I would like to end this very long newsletter. Last but not least of course.... we wish you all a good New Year with happiness and health and lots of Love coming your way.

Xaviera and Philip and all our funny fourfooters...