Dear Friends,




EUROPEAN PREMIERE OF MY DOCUMENTARY IN AMSTERDAM

I just celebrated the European premiere of my documentary: "Xaviera Hollander, the Happy Hooker, Portrait of a Sexual Revolutionary" (directed by Robert Dunlap and produced by John Patti) at the Jewish Film Festival in Amsterdam a few weeks ago. For me it was an emotional affaire, specially as most of the people who had been interviewed in this documentary are living in Amsterdam and thus showed up on opening night. It was a festive event with a full and enthusiastic audience. If you want to see some of the photos taken that night click more photos

Israeli International Film Festival
During the International Documentary Festival in Amsterdam (IDFA) Jack Weil
represented our film and this resulted in yet another invitation for me! This time I am invited to attend the Israeli International Film Festival in Tel Aviv on May 10, 2009. Both Philip and Jack Weil were invited to join me: all expenses paid by the organization. It looks like 2009 will be a busy year full of travels all over the world.
CELEBRATION OF CHANOEKA, X-MAS AND NEW YEAR IN SPAIN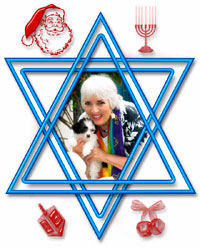 In the meantime there are still the Chanoeka, Xmas and New Years events to celebrate. This year however, we will not be in Amsterdam, where for the past 35 years I hosted enormous Christmas dinners for up to 40 people. Instead we will celebrate it in Marbella, in a more intimate setting, with a select group of friends and our new family member, Suzy, the feisty tiny mixed shiatsu puppy. Hopefully we will be blessed with some warmer weather than we usually experience in Amsterdam during the holidays! Read more on Holiday thoughst: Christmas versus Chanukah >>
Star Struck & Mourning Glory
There is more great entertainment by the famous English Comedian/actor David Benson in the pipeline in January. No doubt I will remind you of those dates after we have all survived the holidays.
January theatre shows in Spain:
Last but not least a recent little article in the Sur English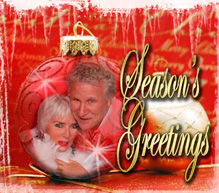 Love and kisses and best wishes to you all from Xaviera Hollander and Philip
---
Subscribe to my newsletter at Newsletter page