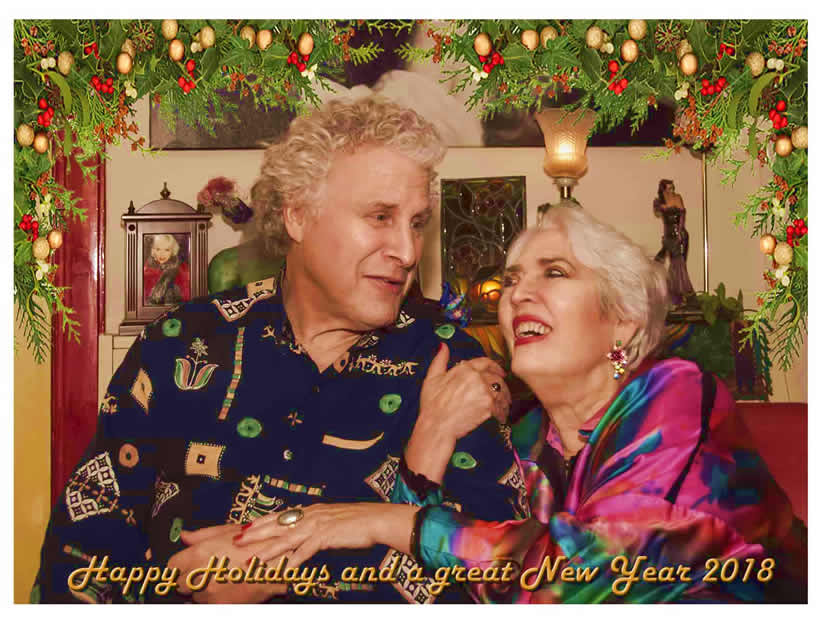 It is that time of year again... a special X mas and New Years letter from Xaviera and Philip
Since my last newsletter about the Edinburgh theater festival 2017, not too many exciting things have happened, apart from a most successful Happy House Bed and Breakfast business, specially managed by Philip. .
XAVIERA'S LATEST BOOKS :" STILL HAPPY AFTER ALL THESE YEARS!"
There was the interesting and quite exhausting trip to the Frankfurter Book Fair together with my American editor and good friend Brenda Love, herself a well known sexologist who now lives in Prague for the last 15 years. She offered to put my book together: XAVIERA STILL HAPPY AFTER ALL THESE YEARS - a Memoir, consisting of two books, covering the last 45 years of my life since I have been back in Amsterdam.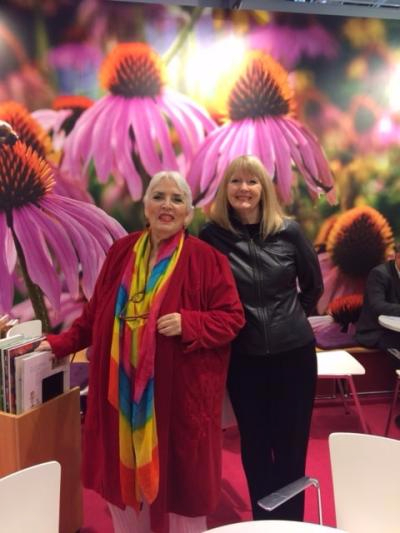 FRANKFURTER BOOK FAIR
The entire Book fair took place in a huge complex spread over several streets with lots of enormous halls to walk. Helas, there were not many American or UK publishers which I was of course looking for and… guess what! Most books that were being published were CHILDRENS BOOKS in German.
Also the timing to sell a book about my still quite colorful lifestyle as well as ageing, was not right, due to all the sudden scandals of various powerful men, who apparently have molested hundreds of women , - mostly in the field of entertainment - thanks to this great worldwide #metoo revelations the word SEX seems to be the last thing on publishers minds these days! Oscar Wilde was right "Everything in the world is about sex except sex. Sex is about power."
WIESBADEN, SHORT ONE NIGHT STAY AND VISIT TO BINGEN AM RHEIN
On our way back Brenda and I made a stopover at the charming city Wiesbaden and spent an afternoon visiting my dear ex lesbian lover Hildegard from half a century ago in Bingen am Rhein. She is now in her mid nineties and still remembers me fondly and of course the affair we had in Marbella. Hildegard, still glamorous and with dainty slender fingers, nails neatly polished red and matching lipstick… has all her marbles together and is still very charming. There is a lifelong bond between us of loyalty and love. She lives in a neat German elderly home , but the people she is still most interested in are not the demented guests of the house, but more so the darling sweet nurses who are barely half her age and look after almost all of her needs.
I.D.F.A.
Back to Holland Philip was glad to see me again, while I had dropped off Brenda at Schiphol airport to return to her own husband. Within a few weeks I booked dozens of movies for the INTERNATIONAL DOCUMENTARY FESTIVAL of AMSTERDAM in short the IDFA.
FAVORITES OF THE IDFA: MUHI and JANE GOODALL
Here are two films of my own choice: one in particular MUHI. As we were invited by my American friend Jimmy Hollander, I still know from my Spanish days, when he just started as a photographer and then moved to Israel where he married another well-known photographer Rina Castelnuovo-Hollander. It is his wife's first incredible movie she has made with Tamir Elterman called MUHI. Unfortunately even though they scored very high at the end results the first price went to the story of a deaf boy.

The other movie I also enjoyed enormously was about JANE GOODALL who spent most of her adult life surrounded by wild chimpanzees . She managed after several years, with admirable patience to become part of their tribe. Meanwhile she married the filmmaker of National Geographic who spent a few years with her until he was transferred to Serengeti . They divorced but remained friends practically until he died . He meanwhile had become a world famous film maker of the wild animals in Serengeti. Their son is still occasionally accompanying his ageing mother, a courageous and charming woman now in her eighties, who is world wide known as the woman who cares for chimpanzees.
Rina Castelnuovo-Hollander, Tamir Elterman: MUHI
Muhi sings Jewish songs and counts in Arabic. This Palestine boy lives practically most of his young life in an Israeli hospital where he arrived as a baby with a severe auto-immune illness. In order to save his life they amputated half of his arms and legs. Due to primitive healthcare in Gaza Muhi could no longer return to where he was born, so his grandfather decided to keep him company. The cameras followed these two from close by until Muhi turned 7 years old. We witness all the important moments of their lives, that predominantly take place in or around the hospital. What we see is also the madness of the Palestine Israeli situation. Short visits of his close family members often take months of preparation, but frequently get cancelled at the last moment, because the checkpoints stop these family members at the border. But Muhi seldom gets discouraged and continues to conquer everyone's heart, be they Jewish or Arabic even though he always makes sure people know he is not a Jew but an Arab…
EARLY DECEMBER PHILIP AND I ATTENDED THE CREMATION CEREMONY OF AN OLD SCHOOLCHUM OF MINE COOTJE TULP AGED 77
We all know each other from way back when we all attended the Barlaeus gymnasium. Cootje who always kept his boyish healthy clever look with the dark rimmed glasses and his thick once black lately grey hair, had just been married for 50 years with his first girlfriend called Karla Wildschut. Unfortunately her child wish remained unfulfilled. This has left Karla often quite depressed. Cootjes older brother Appie also died far too young about 8 years ago and Karla's two sisters reproduced each two children which were always of great support for their aunt, specially during the cremation procedure. The hall was filled with about 100 friends, most old schoolmates like me, from the past.
Cootjes youngest still very boyish looking little brother Tonny, much like his brothers someone with a mathematical and genius mind, also had two sons and Tonny had offered to prepare a musical tape to bring along to the ceremony as he more or less knew the taste of his brother.
How Co came to his end was a real big question mark for all of us, including poor Karla. They owned a cute little house in the south of France where they would usually go round the autumn time for a month. About 2 days before their return to Amsterdam Co suddenly fell violently ill and ended up in the local hospital, where they were told to make it back home to Holland as soon as possible as they could do no more in France for him to stay alive. Karla was in shock and managed to drive him home. There, they kept him for four weeks in intensive care and did not wake up any more. Nobody really knew what had happened but in a very short period of time finally all his bodily functions stopped and he died.
WHO IS AFRAID OF VIRGINIA WOOLF
Karla Wildschut, who has been a girlfriend of mine almost all her life, was an actress and I used to enjoy her acting on many occasions. Cootje however seldom went to see his wife perform as he really hated theater. One day he finally did go to see her in the great play I always liked, called WHO IS AFRAID OF VIRGINIA WOOLF. I will never forget the great acting in the movie with Richard Burton constantly haggling with his wife Liz Taylor... as both hit the bottles of whisky as well as each other on stage. It was a true love hate relationship!!
Karla was the last speaker at the cremation and told the above story and what shocked us all was when she said out loud... "Guess what, when Cootje and I came home after this exhausting performance he actually praised me for being such a good actress on stage to which he added: "Karla you know what.. I think that couple on stage really went through a horribly bad marriage". To which Karla nodded her head and said softly: "YES CO!" and he then answered in a dry tone: "HA HA, I THINK OUR MARRIAGE HAS BEEN A LOT WORSE THAN THEIRS!!!" At this point Karla just could not speak any further and went to sit down between her nieces who handed her a kleenex. The public was pretty shocked about this honest but most painful story, judging from their reactions.
SHE BY CHARLES AZNAVOUR...
What amazed me is that Karla was so dead honest about her undercooled marriage.. and then... on came the last song from Charles Aznavour called SHE... which was like a fantastic declaration of love to his AMANT... HOW WRONGLY CHOSEN the timing of this song immediately after Karla's text about the debacle of her own marriage!
XAVIERA, STILL PHILIPS H.H.
Well, I can count my blessings with the man of my own choice: PHILIP. We are now married for well over 12 years, a copper wedding I believe they call that and we are still madly in love with each other, as we also share a lot of things together, and seldom or never really quarrel, but mostly laugh a lot and have no secrets for each other. Just in the household department I can be a bit lazy so Philip lately refers to me every now and then with a wink to some of our closest friends as his HH or better Hopeless Housewife. We wish you all a great, productive and healthy New Year. And here are a few YouTube films that speak for themselves. SO HAVE A HAPPY NEW YEAR AND MAY ALL YOUR WISHES COME TRUE...
You can find me on facebook under Vera de Vries or email me at xie@xavierahollander
I also have a brand new webshop with new titles of several of my books as well as a copy of my documentary made by Robert Dunlap, who also sadly just died a few months ago... a spoken version of my book I wrote with John Drummond: HAPPILY HOOKED or "what happens when two raving egomaniacs get addicted to each others bodies and minds", some naughty songs from the seventies, written and performed by me and a cd with sound bites by Tom America with text of myself. Then there is my all time favorite book CHILD NO MORE an ode to my beloved mother after she died at the age of 85.

In Dutch there are the Happy Hooker as well as Supersex and KIND AF. THIS IS ALL BE ON SALE BOTH IN MY WEBSHOP OR ON E BAY CLICK on the images below to go to the shop.
---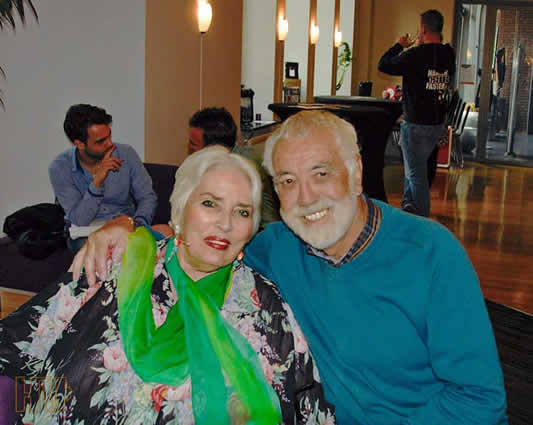 P.S. Henk Visser we want to thank for the fun X mas pictures of Philip and Me!!!
MERRY X MAS 2017 AND A GREAT NEW YEAR 2018!!
Xaviera and Philip