Newsletter July 2020
My dear friends, this is Xaviera, who has not sent out any newsletters for a pretty long time, though my thoughts are still often to be read on Facebook under the name Vera de Vries! Today, shortly after I turned 77 years old I decided to put together a DIFFERENT kind of newsletter. Especially now that the entire world seems to be in the grip of the horrid Corona Virus. So I have asked various friends of mine, who live in many different parts of this world… to write their thoughts about how life has affected them in the last few months.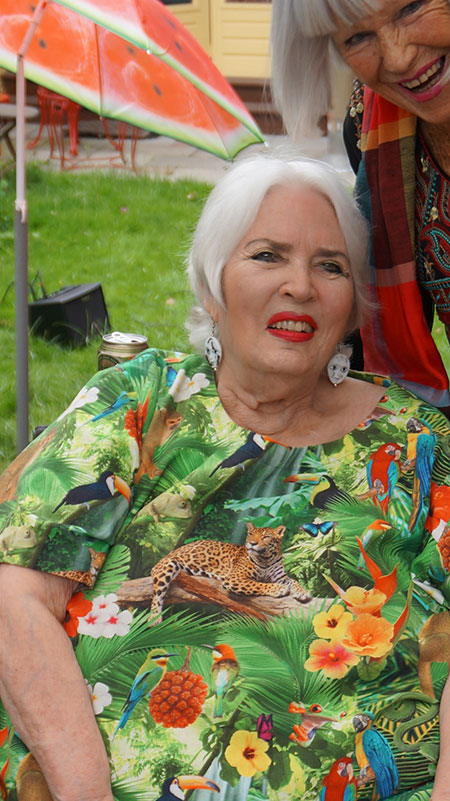 Let's start with a rather cheerful text from the American ex-professor English literature: Clyde, who has been my lover for a full year before I met Philip.
I live in the East Village, the heart of hip NYC. Currently, some CPR is desperately needed, and the prospects for permanent relief is over some distant horizon yet to be imagined. Yes, some cautious moves are happening. Restaurants, bars, barbershops, nail salons with heavy social distancing guidelines required, but if we experience a surge in the infection rate, we will be back to square one. The city feels different. All of my favourite places are closed. The Whitney Museum, The Met, the Guggenheim, the Union Square Cafe, and all of the restaurants that I frequented when I did not feel like cooking. Also, frankly, I am not going into any enclosed space until there is a vaccine.
There are far less traffic and noise. The air is cleaner. There are many more cyclists. Many people have moved out of the city, and it is not clear if they are coming back. NYC feels like a wounded animal on life support. The general mood of the city and the nation is one of fractured political partisanship with the face-mask as the flash-point for heated arguments. It is abundantly clear that wearing the mask in the public can curb the transmission of the virus. Yet people, including the President, refuse to wear one. More than one irate citizen has proclaimed that he would rather die than wear a mask.
I have discovered ZOOM. I have a group of friends in Louisiana, wiggly women who are very smart and interesting. They have often come to the Hotel Clydeafornia for a cultural immersion. I also happen to be an excellent chef with about 250 bottles in my wine fridge. The last visit we went to Bob Dylan's sold-out show, and before that David Byrne's "American Utopia." Moreover, we always take in two or three museums and maybe a ferry to Governor's Island. Now that we are stuck in our respective habitats, think crawfish verses lobster, we came up with an entertaining way to keep in touch - a book and movie club. We started with James Joyce's "The Dead," and then a movie, "Secret of the Grain." We alternate each week, fire up the Zoom-scope and talk for about an hour. Blows the cobwebs away. By the way, "Secret of the Grain" has the hottest belly-dancing segment I have ever seen!
And America has rediscovered that its racist past is still with us. Black Lives Matter and the upheaval caused by the frequent shootings of unarmed Black people by police have ignited riots and looting, but more often peaceful marches attended by large numbers of white people. A strange syncopation exists between the Covid-19 pandemic and BLM movement in that the shock to the economy and the routines of daily life seems to have made people more aware of what is necessary and just for everyone to live a safe and comfortable life. This time of the year, I would usually be on a plane to Europe. No way. 30,000 feet in the air. Whose air are you breathing? Train? Maybe. No trains to Amsterdam.
- - - - - - - - - - - - - - - - - - - - - - - - - - - - - -
These are the thoughts of life in the USA at the moment by MATT LUCAS, a well known youthful musician I know for over 30 years, born in 1935. He usually travels the world on a great cruise ship where he also sings soul and blues and rock for his enthusiastic public.
Hi, I really can't see anything positive at this time about the race thing that is going on here in the USA. It seems to get worse every day! I've been in a race-riot in Detroit and it was so bad the border to Canada had to get closed! It was no fun watching black people burning down a city, stealing, and breaking into stores. It is very scary when you see army tanks come down a major street in a city like Detroit. This has to stop as we could have a race war with Trump stirring up more hate every day! Now Trump. He has taken over The Voice of America and Radio Free Europe to give him more power to spread hate. I'm old enough to remember when Hitler took over all the radio stations... It's such a shame what the world is coming to. As you know for sure, it's not just a black thing, people hate the Jews, the Catholics all the denominations... I do feel sorry for the poor blacks as well as whites and everyone else, no matter where they come from in the world. This could not have happened at a worse time with this virus spreading and people saying it's a hoax! Crazy. I know you and Phillip are not racist and I am of course not either. Who knows what will happen next? Love, Matt.
P.S. By the way so you have a more complete picture of the guy, please do read George Floyd's Wikipedia page. Apart from the References at the end (which you can easily skip), it's not very long: https://en.wikipedia.org/wiki/George_Floyd
- - - - - - - - - - - - - - - - - - - - - - - - - - - - - - -
From a dear Mexican friend I know for years from the many winters I used to spend in Zihuatenejo (near Acapulco) RAUL MAQUEO, who owns a lovely liquor store ,specialized in fine wines etc.
Ola, I am Raul and I have been friends with Xaviera for almost 30 years. It is hard to believe we are in this situation today in the entire world. I thought science was more advanced by now to have found a remedy to fight this Corona disease!! But it is also terrible to see how most governments are so incompetent. In my own country, we also face the horrible Narco Violence and up to now nobody has been smart enough to get end it. Apart from the great weather we live in very difficult times. Wish I could come and see you some time in your own country Holland. Big hug for you and Philip. Adios mi amor! Raul.
- - - - - - - - - - - - - - - - - - - - - - - - - - - - - - - - - - -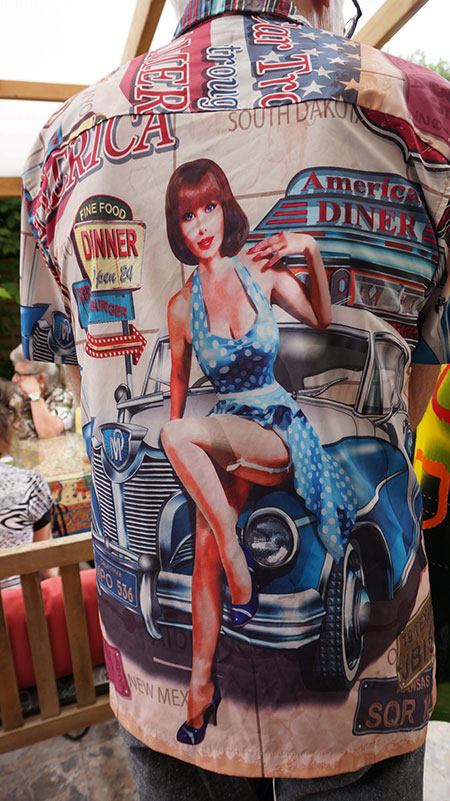 This is what a friend of mine, Ray, has written. He is a software developer and has done some good work for me, over the years, as well as being a good honest friend, in Amsterdam.
Most people consider the last three months as a sort of nightmare, in which terrible things have happened. That is true but the excessive death rates and the human suffering, caused by both the virus and the lockdown measures, have been political and personal choices, not the inevitable. We know that locking down, earlier, would have saved at least half of the excess deaths, in the majority of countries. Most people were terrified of the lockdown when it was first imposed because they felt that their pleasures, entertainment, sporting events, festivals etc. would no longer be available. They wouldn't be able to take their annual holiday or travel freely around their territory or the World.
What has actually happened has been a regeneration of nature; a stillness in the air that has been no longer punctuated by the sound of traffic and the paths of aeroplanes. The "jungle" has attempted to return to reclaim the Earth from its human abusers. The World has, to some extent, had a three-month chance at recovery. We have learned that so much of what we have taken for granted, in these last decades, have been unnecessary.
We have been taking luxury privileges as if they are our rights. Many took multiple vacations, per year, owned more vehicles than they could drive, travelled so much more than they needed to and spent money on luxuries, just because they had that money, not because they needed that service.
It wasn't even making them any happier.
New ways of living, including the economy of digital technological communications, instead of face-to-face conversation have revolutionized the way we live. The dirty habits of Western civilization have been shown to need great improvement. Coughing or sneezing, without covering the mouth and nose, the lack of handwashing, unclean surfaces and preparation hygienic food preparation are no longer acceptable in the societies, in which we live. Are people essentially selfish and greedy or are they, inherently, co-operative and good-willed to each other? I believe that the Corona crisis has shown us that the second option, above, is the true one. We now know that, in the event of a major crisis, people become nicer, calmer, more tolerant of each other and almost everyone acts reasonably.
This has been written from my heart, anyway. Ray
- - - - - - - - - - - - - - - - - - - - - - - - - - - - - - - -
The following text was sent to me by Zin Craig, a darling most cheerful American journalist girlfriend, who married a well known retired English GP, called David. They live near London but do tend to spend a lot of time on their yacht or in general travelling around the world! But first here are her thoughts about the lock-down and Corona.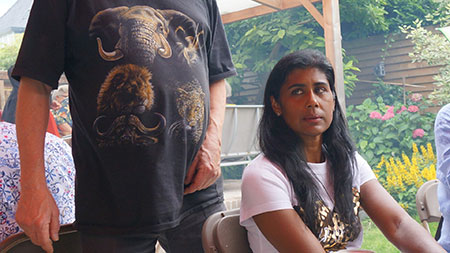 David and I really got a lot of value of the Lockdown in our Florida condo from 12 March until June 27, when we flew into Heathrow. I did a course on Psychology and am also learning how to read tarot cards! David studied Philosophy and World History. We went boating most days and self-isolated with dolphins!!
I have a girlfriend here in Dorset, who was very anxious when the virus and Lockdown first hit the news and this is what I wrote to her and still believe. Feel free to use any or all of it... Look at our world situation like this. Love Zin
And... With this lovely long text, I think there is not much more to be said by me, Xaviera. At least not about the Corona episode we live in, as Zin more or less says it all.
Mother Nature is injured and needed to rest. Her forests were blazing in Oz and California; there were two volcano eruptions, typhoons, floods, rivers raging, dams breaking, ice sheets melting, polar bears dying. So Mother Nature just said "Stop!!! I need to lie down. I need to take some time to heal and breathe." And that's what has happened. The world had to just stop spinning. Let the Earth's core cool down, kill off the old and the weak. Let the strong survive. Cruel but fair. That is how life has worked since time immemorial.
Bring a new era of caring and concern, creativity and invention, protect, prepare and provide for the global village that will become the new normal. Have you seen the photos of cities "before and after" the Lockdowns around the world? No pollution, more wildlife teeming, more birds singing? Los Angeles's skies are smog-free and peacocks are roaming the streets of Dubai. Photos show how nature has returned to cities shut down by the coronavirus pandemic. It's a reset button for the future. We needed to be shocked into taking better care of ourselves, our planet and each other. Look at it this way: Corona will do for the world, what 9/11 did for New York City. NYC was a mean town, rude, corrupt, crime-ridden, impolite and uncaring and then BAM! Kindness and love came out of the rubble.
The Great Depression lasted 10 years, World War II lasted 6 years. Our parents and grandparents got through them both. Our countries became stronger for it. This too shall pass and we will come out the other side, bigger and better, too. We aren't in Syria being bombed or having buildings crumbling around our heads as we seek shelter from enemy fire and shrapnel.
We have food, shelter, the internet, FaceTime, Netflix. We're all in a good place, better off than some and probably most, given our wealth of technology and resources. Try to see the positives, which will come out of this. In addition, I truly believe many good things will evolve and emerge over the next 12-24 months. Let's look for them! Don't be scared and try not to worry because fear and fretting will not change the outcome of what lies ahead.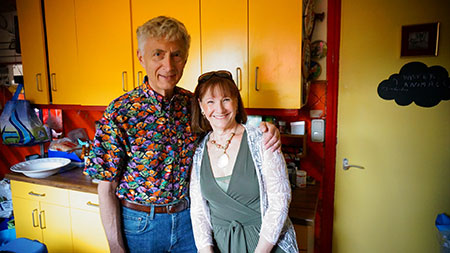 Spend your time and energy on joyful things, things that give you pleasure and make you smile, make you feel good! Vodka does that for me! (and sweets, liquorice or icecream do that to Xaviera). Just kidding but I wanted to lighten the mood a bit! But seriously, at the end of the day as Doris Day once sang "Que sera, sera, Whatever will be, will be. The future's not ours to see. Que sera, sera…"
Stay strong and if you wobble, I am always here for a pep talk!
---
And now I, Xaviera will simply add a few more lines about Philip and myself. As I turned 77 and have just about seen every place in the world I ever wanted to visit and... my health is not as good as it used to be any more... some osteoporosis and maybe also arthritis have caused me some pretty painful moments over the last six months. Normal paracetamol barely helps me get rid of the occasional pains that pop up. So I followed the advice of our favourite musical friend Frank de Kleer, who also has a few serious health issues, and now started taking some pretty strong pain killers called TRAMADOL.
The combination of these medicaments keeps me on my feet as well as the lovely caring husband Philip de Haan I married 15 years ago and met at one of my birthday parties.
To my first question on that memorable day "CAN YOU COOK?" he answered "YES I CAN"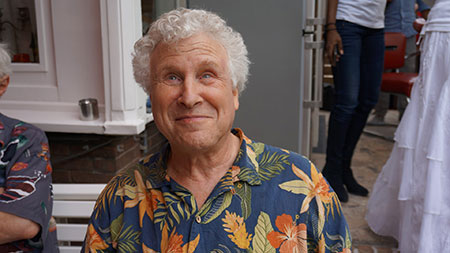 And surely he has looked after what goes into my stomach every day, ever since he answered that famous question. Not only is he a great faithful fun man to have with me all day and night, but we also built up quite a terrific Bed and Breakfast at my house on the Stadionweg suitably called XAVIERA'S HAPPY HOUSE. With a sweet staff of our faithful Greek assistant Alkis and the occasional help of some other visiting friends, we achieved regularly in the high rating of a TEN from booking.com "tourists" who came to visit us over the years.
Each of us speaks about four to five languages, which surely helps in a BB.
On to a different subject at last – if you are still awake by the time you managed to read all of the above text...
I have just finished finalizing two enormous books both in Dutch as well as in English called
WALL TALK I - STILL HAPPY AFTER ALL THESE YEARS
WALL TALK II - OLDER BUT WISER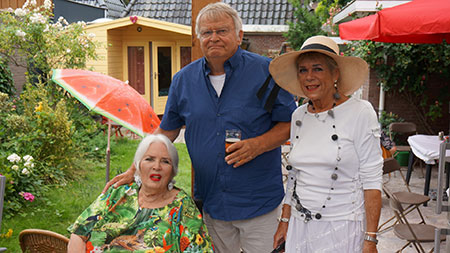 Both these books cover the last 40 years of my life since I returned to Holland after the USA and CANADA periods. But more about that hopefully in my next newsletter.
ENJOY THE ABOVE. I HOPE YOU HAD A NICE DRINK BESIDE YOU, WHILE READING ALL THIS.
This is a Dutch radio interview on Netherland I radio at midnight June 15 which is exactly when I turned 77. With PREM a lawyer turned into a dynamic radio reporter from Surinam but living in Amsterdam since ages.
And here is something to cheer you up... especially if you are a dog lover!!
And now, at last, come the fun pictures of my last smallish corona distance birthday party which took place a few weeks ago... with the lovely trio of Frank de Kleer on guitar, his young son Miguel and the delightful newly discovered talented violist MONIEK who not only is a great violist but also a terrific tap dancer as well as a singer of gipsy music.