I finally feel so much better than I have felt for months, since I just got home in my Spanish Villa (as that is where Philip and I are right now for the next 5 weeks ) from a two day visit in a fancy schmanzy private clinic here in Marbella. There I underwent a meniscus knee operation, performed by a darling sexy 45 year young German Orthopedic surgeon, dr. SCHMITT, whom I know from previous experiences with a very painful so called "spread foot" I suffered from exactly a year ago. He is better than anyone else I ever met in Holland and what a miracle he actually had time for me to do this operation I needed so urgently !!!
I called him the day I arrived here from Amsterdam to make an appointment for the knee operation as I had already sent him by email my scanned results of my MRI SCAN I had done last week in Amsterdam


as well as local laboratory reports. I had informed him that I was in so much pain that I really barely could walk anymore. For weeks I had been depending on Philips arm or a special walking stick... and lucky me,.. I was told that within 3 days he could operate on me; between a hip replacement he had to do in the afternoon and a new knee operation in the morning. What energy and German punctuality!! NOWHERE in the world does a patient get such an emergency treatment. In Holland you sometimes have to wait 2 to 4 months to get operated.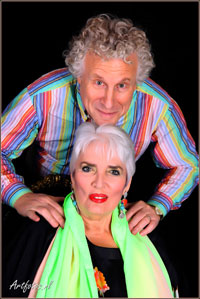 First Philip , who is my saving Angel these days ( and every other day when I need him) even though he himself had been quite ill for the last two days.. took me over there, checked me in my small but very efficient room with a view of a luscious tropical garden and installed my laptop,hung up my clothes and settled the bill for hospitalization as well as did the private payment for the surgeon. The day before we already went over this private clinic which is hidden in a quaint urbanization about 15 minutes away from Marbella near the Puerto Banus.
PRIVATE DE LUXE CLINIC NEAR MARBELLA
As it was in the private expensive clinics waiting room at the reception desk we had to sit and wait for more than half an hour until it was our turn to check in, we got to watch the "grande parade" of other patients. In this period at least a dozen Marbella Jet set people , mostly women of a certain age - well preserved by botox and whatever chemical peelings or facelifts - but all with some kind of medical trouble, came in on their spiky heels and tight fitting designer clothes. They were almost all covered with bling bling jewelry , though some, with foot or leg problems were stumbling in on flat shoes. They were like me with Philip, supported by their often much younger toy boys, who would carry their ladies elegant Louis Vuitton overnight travel bags, as their mistresses would also be operated, like myself.
So yesterday it was MY turn. The nurses: male as well as female were all Spanish and very nice and pretty...attentive and polite. It was a pleasure to have chosen this clinic rather than one big anonymous hospital in Amsterdam, where hardly any of the personnel members would be Dutch, but usually were multicolored from all different nations and not half as friendly as here. I did not care that my Dutch insurance would probably refuse to pay my entire bill, I just counted my blessings to be in these surroundings. Also the aftercare in my Spanish villa overlooking my own paradise like garden under great summery sunshine and, rather than being in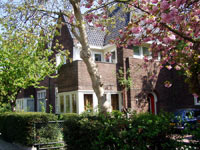 Amsterdam during the most hectic bed and breakfast period of the year with nothing but stress stress and more stress, with visiting guests. etc.
I had left the B&B in good hands with Adrian, my handsome Rumanian manager and a couple of good friends of mine Kerstin and Rolf would assist Adrian some mornings with taking care of my booming business. Philip and I had not had a vacation since last trip to Spain autumn 2011 so you can imagine how happy we were to come here for 5 weeks. With or without this operation . From today on we are in for a great time.
OPERATION ROOM - BRRR FREEZING COLD
Once in the freezing cold operating room I got a bit nervous. Had not been allowed to eat or drink since midnight and it was now 12 p.m. Shivering I was rolled in by two sweet nurses who all spoke both German as well as Spanish. My doctor and his equally attractive young son of late twenties, had just rushed in after his first operation. His son would also be an orthopedic doctor in a few years so he was asked to joined the team.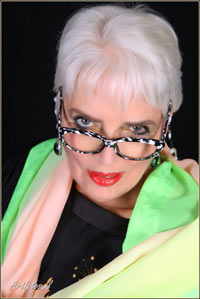 I had brought along my glasses as I was promised that I could watch the entire procedure of the operation on a big monitor, while it was being performed, but soon after I got the injection in my back... I started to feel pinches and needles all over my feet and legs and was left like paralyzed but also drowsy, so really watching it all happen, I did not manage to do. So I left my glasses on a desk and listened to Dr. Schmitt explain each move he made in German to his son and the rest of the staff around him and later I was handed a video from the operation to watch at home !
The man who was monitoring my anesthesia, a sweet older gentleman with a grey mustache, had been working for 18 years in various hospitals up and down the Costa del Sol, but preferred it here. He was paternal and sweet and covered me up with an extra sheet when I started to tremble with the cold that came over me.
BLOODPRESSURE FAR TOO HIGH TO OPERATE
Then came the trouble with my blood pressure which apparently was far too high 110 - 175. I had not been allowed to take my blood pressure medication and another half a dozen other pills I usually consume, two days before the operation.. so I was quickly given two pills under my tongue to let the pressure go down.
TOO DROWSY TO WATCH IT MYSELF
Meanwhile I was getting more and more drowsy from the injection they had given me when I finally realized the operation was almost done. So I opened my eyes and turned my head towards the Dr. to see that he - strongly built man- had my left leg up in the air over his shoulder and in that position stood and operated me with this keyhole operation for what must have been nearly an hour.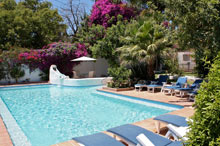 And then the lights that had been dimmed during the operation came on again and the freezing temperature went up. Talking and laughter had started, and Dr. Schmitt himself lifted me up while from somewhere the nurses had rolled in my own very comfortable bed. As he did so, which was a complicated movement between the operating table and my bed he laughed out loud and said:"I hope this time this patient won't fall from my arm, or almost did" I was shocked and indeed hoped it wouldn't happen to me. Strange German sense of humor had the entire group in laughter and me too towards the end when I felt the comfortable mattress of my bed and my pillow holding me up.
BACK TO NORMAL LIFE AGAIN IN MY COMFORTABLE ROOM
The lovely first drink of icy water and soon after, a great stuffed chicken tasted divine. The young skinny Spanish boy, who had cooked it all when he came back after half an hour to pick up the dishes and saw how happy I was with his meal, instantly and proudly gave me his recipe. He then offered to be our cook if some day we would need a hand for a party, as he had plenty of time between his job as a cook at this hospital and some private work.
NUMB LEGS AND BOTTOM AND PUSSY CAUSED EMBARRASSING BED WETTING SESSION
My legs and bottom and belly were totally insensitive for the next 4 hours after the operation and to my great embarrassment I had twice peed in my bed without realizing it.
The sweet nurses came in pairs and poked all sorts of things up a tube (that was hurting me all day all night) they had inserted in my left hand.. between my fingers . Filled it with painkillers, medications and water . The nurses also shot an anti trombosis injection in my belly, and helped me in and out of bed once I had no more pins and needles in my legs but could feel them again.
WHAT A SEXY MAN WHO CARRIED ME TO THE LOO AT 4 A.M.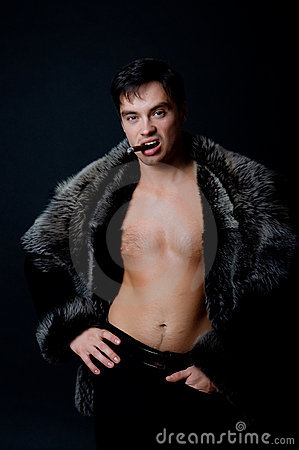 The nicest memory I had was that round 4 a.m. a strapping young Spanish male nurse showed up in my dreams and as it turned out to be in reality as well (I had been given a strong sleeping pill) to fix something in my hand. I then realized I had the urge to pee, so as he was right there, I asked him to help me to the toilet with my crutch like the female nurses had been doing until then.. So what did this wonderful hunk do?? He just picked me up in his sexy dark blue shirt with hairy chest showing, hairy arms and muscular body and simply carried me to the toilet. He left me there for a few moments and carried me back. AH... the musky odor of his armpits and his lovely smile and white teeth, but most of all the strong muscles in his arms gave me a most fabulous almost wet dream when I went back to sleep immediately afterwards. Ah had I been 30 years younger and not in a hospital I certainly would have loved to seduce such a man in a jiffy!!
What more is there to say... This has become such a long story about a not too important incident compared to some of the horrid cancer stories like from my friend the famous blues singer Candye Kane... yet.. being the writer I am, I thought it worth my and maybe your while to write it down and share with you. After all it has a happy end. Madame X will be able to walk without pain again soon, intends once more to shed some more weight and enjoy life to its fullest with her man Philip by her side. Soon it will be 7 years that we met and well on my 69th birthday June 15 next.
Ready for a massive birthday party in my Amsterdam house and garden then. The only sexy thing about becoming 69 is really the figure 69.. which reminds me of many 69 positions I have practiced with sexy men and or women over the years and all over the world.
GETTING OLD IS NOT FOR SISSIES....
As one of my exes, New York Master Clyde (he is my same age and has had a lot of health hazards) once said to me: GETTING OLD IS NOT FOR SISSIES....
Have a great summer you all. and till you hear from me again.
As Always love,
Xaviera Hollander