Nijinsky's Last Dance
Xaviera Hollander and Sherry Midas present:
Nijinsky's Last Dance
by Norman Allen Ricardo Melendez as Nijinsky
Nijinsky's Last Dance by Norman Allen is a one-man drama featuring an outstanding tour-de-force performance by the mesmerizing Ricardo Melendez as the tortured dance great, Vaslav Nijinsky

SHOWTIME
May 16 2008 - 22.00

May 17 2008 - 20:30
Black Box Theatre in Marbella

Calle Notario Luis Oliver antiqua calle Finlandia

Tel: 34 952 779172

www.blackboxteatro.com
Vaslav Nijinsky, one of the greatest male tortured dancers of all time, was discovered at the tender age of 9. As with many child protégées, the pressure of living in a whirlwind of fame and excitement proved too much for the young star. In less than 90 minutes, the play moves in and out of the dark mind of Nijinsky to tell the story of his rise from obscurity to fame as a young dancer with the Russian Ballet; his innovative dance style that changed the face of modern dance; and his ultimate and tragic descent into madness.

Ricardo Melendez is utterly believable as the unstable and slightly crazed Nijinsky.
Creating a sense of incredible vulnerability, he encapsulates the audience as he tumbles back on a journey retelling the colorful tale through the dancer's eyes.

"I am Nijinksky, I am Nijinsky, I am…". This recurring statement evokes a feeling of pity and sorrow as the dancer moves the audience through his extraordinary life with the view that the world makes greater demands than simply the talent that is given by God.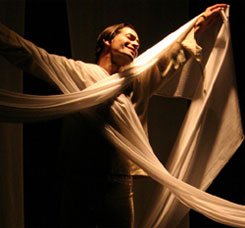 Melendez powers on through the difficult tale, moving swiftly from one character to the next, creating an easily identifiable persona for each. His rippling body tackles this intense piece of physical theatre with ease, and his talent as both dancer and actor leads to an unforgettable performance.

One would believe that they are in the presence of the troubled man himself. Melendez is Nijinksky.

The life and career of Vaslav Nijinsky was as tragic as it was brilliant. Born in 1890, the Russian dancer blazed a trail across Europe, leaping higher and moving quicker than anyone before. Behind the glamorous parties and regal premieres, however, lay a fragile ego and caged artistic genius.

Climbing under the skin of this most complex of men is no mean feat, but Ricardo Melendez spends an hour immersed in Nijinsky's life. On a simple stage, draped with white linen cloths, Melendez takes us from Nijinsky's childhood in St Petersburg to his glory days in Sergei Diaghilev's Ballet Russe. He starts and ends with the tragic vision of this once great dancer, broken and near hysterical in a psychiatric hospital. It's a life story filled with passion and longing. Desperate to hold and, more crucially, be held by the beautiful women who surrounded him, Nijinsky had to forgo such pleasures for the sake of his career. Instead his nights were spent pleasuring Diaghilev and his "saggy bottom".
All of the main players in Nijinsky's life are brought to life by Melendez, with a simple change in stance or voice. It's a script which demands much of its performer - not least the Russian accent - but Melendez rises to the challenge admirably. A former dancer himself, with Alvin Ailey among others, he moves beautifully, albeit in a rather restricted space.Posing to have his picture painted, Melendez strips down to reveal a statuesque body. It is a moving scene which epitomizes Nijinsky's entire personality - well- founded conceit mixed with an almost pathetic vulnerability.
Melendez brilliantly portrays Nijinsky as well as nearly a dozen others who populated the great dancer's life. The characters include Nijinsky's lover Sergei Diaghilev, prima ballerina Tamara Karsavina, and artistic champion Auguste Rodin. Through the passionate telling of his own rise and fall, Nijinsky offers his audience a glimpse into a world descending into the chaos of World War I and the challenges facing an artist during this turbulent time.
A one man tour-de-force that delves into the psyche of dance legend, Vaslav Ricardo Melendez (Nijinsky) is originally from San Juan, Puerto Rico and he holds a BA from Butler University and an MFA from Brooklyn College. His acting credits include Hamlet at Theatre 22 and A View From the Bridge at the Gershwin Theatre both in New York City. Regional credits include Becket or the Honor of God, Twelfth Night, Love Valour, Compassion, and A Midsummer Night's Dream. As a dancer, Ricardo is the former Artistic Director of the Ballets De San Juan and has performed with the Alvin Ailey Dance Ensemble Ballet Hispanico of New York and others. He served as principal dancer and Assistant Artistic Director for Dance Kaleidoscope in Indianapolis. He has choreographed for shows all over the world. Ricardo is a member of Actors Equity Association and currently teaches at the Governor's School for the Arts.
Reviews
"It's a script which demands much of its performer - not least the Russian accent - but Melendez rises to the challenge admirably." --Scotsman Critic's Choice
****
"Ricardo Melendez is utterly believable as the unstable and slightly crazed Nijinsky. Creating a sense of incredible vulnerability, he encapsulates the audience as he tumbles back on a journey retelling the colorful tale through the dancer's eyes. Melendez IS Nijinsky."
--Fest Magazine
****
"Flawless, Fabulous, Fantastic! Forget the other shows on your list--go see this one!"
--Leon Conrad, United Kingdom
****

"One truly can leave a theatre feeling they've spent an hour in the company of a hero."
--Gill Edmunds, United Kingdom
****
ABOUT XAVIERA AND SHERRY
Xaviera Hollander, since 34 years part time resident of Amsterdam as well as Marbella - Costa del Sol - , lover of the arts, at long last will be able to live out her dream and produce this haunting theatre performance about the life of the world famous ballet dancer Nijinsky.

Xaviera, author of a.o. the Happy Hooker and another 18 books, has been producing English language theatre in Amsterdam for the last ten yearsand is finally expanding to Southern Spain. Since many years she visits each summer the Edinburgh theatre festival where she handpicks her favorite plays. She recently got married to Philip de Haan, who is her right hand man in most projects she undertakes. She is always reinventing herself so she says about herself. Presently she runs a fun and bohemian style bed and breakfast in Amsterdam and is writing a Total autobiography about her life called "WALL TALK – if only the walls could talk."

Last year she met Sherry Midas, who has produced many a play in England as well as on the Costa del Sol. She has moved from London to Spain and is trying to introduce a cultural exchange between Spain and anywhere else in the world to promote art in all forms: music , dance and theatre. Well…the inevitable happened , these two most energetic and dynamic ladies, who both love the "spoken word "so much, have decided to team up and bring some exciting and top quality theater to Marbella.

Info + Bookings: Tel: 34 952 779172
or book through www.blackboxteatro.com

Phone Xaviera till 23/04/2008 : 0031206733934
Phone Xaviera after 23/04/2008 : 0034952857575
Email: This email address is being protected from spambots. You need JavaScript enabled to view it.
Star struck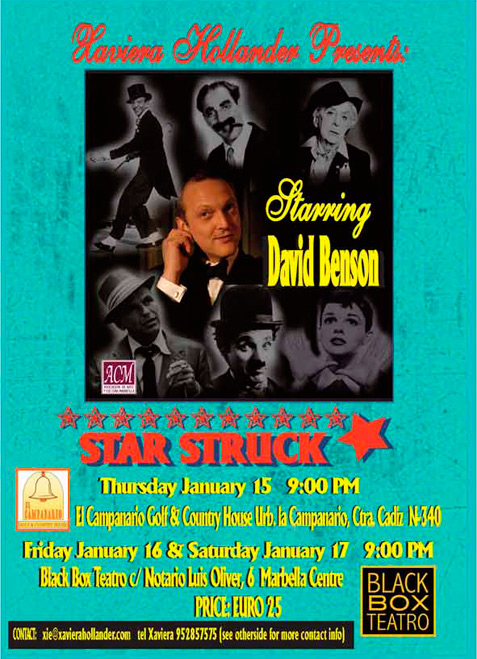 XAVIERA HOLLANDER PRESENTS:
STAR STRUCK BY DAVID BENSON

Who would be on your Fantasy Party guest list? Some people dream about it. David Benson lives it. Every night he whoops it up with the heroes of his youth.

Imagine having a party at which all your heroes are invited. How many of them would live up to your expectations? And how many would turn out to be a complete nightmare? In this magical, brilliantly performed show David Benson meets Quentin Crisp, Frank Sinatra, Fred Astaire,
Judy Garland, Groucho Marx, Noel Coward and many others -and finds out that hero-worship is not all that it seems.

Acclaimed at the Edinburgh Festival 2003, Benson brings Star Struck to Marbella for his first-ever appearance in Spain.
The show will take place on:
Sunday January 11, 7.30 p.m.
Theatre Sol Andalusi, Alhaurin de la Torre
tel. box office 952 112 057 or
email This email address is being protected from spambots. You need JavaScript enabled to view it.
TICKETS EURO 20
Thursday January 15, 9:00 pm
at El Campanario Golf & Country House
Urb. la Campanario,
Ctra. Cádiz N-340, km.168,
29688 Estepona Click here for directions to El Campanario
TICKETS EURO 20

Friday January 16, 9:00 pm
and
Saturday January 17, 9:00 pm
at the Black Box Teatro
C/ Notario Luis Oliver, 6
Marbella Centre
TICKETS EURO 20
For more information and bookings please call:
952 85 75 75 or email This email address is being protected from spambots. You need JavaScript enabled to view it.
or
Call: El Campanario: 952 90 42 33
or email: This email address is being protected from spambots. You need JavaScript enabled to view it.
Call Black Box Theatre: 952 77 91 72
CRITICS ABOUT STAR STRUCK
Article in SurEnglish>>
"Hilarious, moving and utterly magical entertainment" Edinburgh Guide

"The dinner party of your dreams, with guests Sinatra, Coward, Astaire
and Morecambe in David Benson's musical comedy" Evening Standard Critics Choice

"His party is a blast" Independent on Sunday
Mourning Glory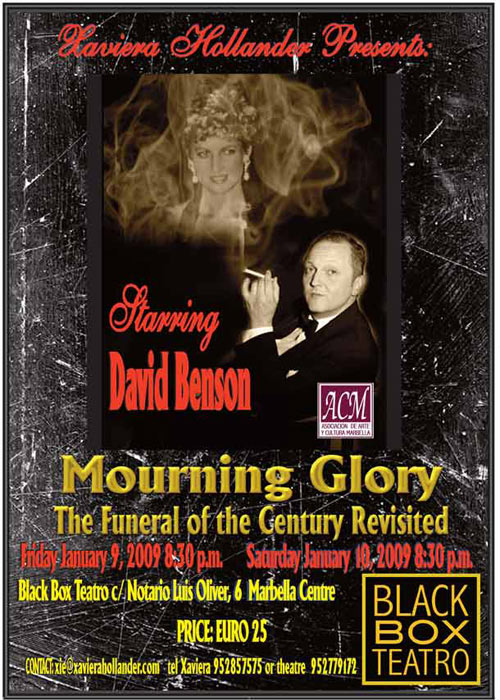 XAVIERA HOLLANDER PRESENTS:
MOURNING GLORY - THE FUNERAL OF THE CENTURY REVISITED
Written and performed by comic/actor David Benson

January 9 and 10, 2009 at Black Box Teatro

In 1998, exactly one year after the death of Diana, Princess of Wales David Benson's second solo show was the first to examine in detail the events of August 31st 1997 and the funeral that followed. A smash in Edinburgh, the show was equally successful at the Sydney Opera House. Now, in a specially updated new version of the show, Benson once again turns his sensitive but sardonic attention to one of the defining events of the last Century.

They said that "Nothing would ever be the same again."September 1997: the entire country ground to a halt for the Funeral of the Century. Yet twelve years later, the events of that day and the week leading up to it have taken on a surreal vagueness. Who can now remember which celebrity mourners showed up to pay their respects at Westminster Abbey? What unprecedented gesture did the Queen make as the coffin passed her front door? And just who, if anyone, was responsible for Diana's death, anyway?
David Benson examines these and other questions with the same acerbic wit and charm that have made his shows "Think No Evil of Us" "My Life With Kenneth Williams" and "To Be Frank" such favourites with audiences throughout Britain.

Take a front row pew at Westminster Abbey and SEE: Cartland - Branson - Kissinger - Barrymore -Cliff! - Elton - The Two Toms (Cruise and Hanks) - Dickie Attenborough- Tony - George Michael - Al Fayed - Mrs. Windsor and the entire Royal Family - and many, many more!

Avoiding much of the waspishness that could be visited on such an easy target, Benson delivers a touching, sometimes despairing rendition of the funeral in Mourning Glory.

Reliving that afternoon inSeptember, he introduces the celebrity cast one by one: Elton John and George Michael; the two Toms, Hanks and Cruise; Messrs Branson and Barrymore. It is a ghoulish collection, but all are upstaged by the presence of the Queen.
SHOWTIME: JANUARY 9 AND 10, 2009 AT 21.00 HOURS

BLACK BOX THEATRE c/ Notario Luis Oliver, 6 Marbella Centre

PRICE PER TICKET EURO 20
INFORMATION AND BOOKING OF TICKETS: CALL XAVIERA AT 952857575
OR EMAIL: This email address is being protected from spambots. You need JavaScript enabled to view it. or call the Black Box theatre at 952779172

================================
MOURNING GLORY
PRESS RELEASE
Mother, triumphant over her adversary. The rest of the Royal Family are portrayed as a sad collection of bewildered onlookers, sitting silent and nonplussed as first Earl Spencer delivers his onslaught and then the audience outside the church sets off a response that eventually infects all but the Royals.
The effect of familiarity is aided by Benson's excursions into impressions, which range from Frankie Howerd to a wonderful take on Tony Blair's Olivier- like funeral delivery of Corinthians: "The impressions relax the audience, it makes them trust me."
He is still, one suspects, rather envious of the more direct approach of one of his heroes, Quentin Crisp. "I remember he said, 'Diana was trash and she got what she deserved. How dare she divorce the heir to the throne and try to marry an Arab?'" But that's a stand- up line, and David Benson doesn't do stand-up.
What the critics say about Mourning Glory:

"... Praise should be forthcoming for sharp comic observation and Benson's increasingly impressive stage presence. His take-off of Tony Blair's funeral speech was almost scary, and his ability to interact with the audience strangely comforting. In the hands of the less accomplished, much of this material could prove clumsy and tasteless..."
Colin Somerville - The Stage

"... Surely nobody could make the national psychic trauma that was the death of our beloved Queen of Hearts anything other than the most ghoulish joke? David Benson could. In his skilled hands we learn of the real meaning of the day - "it took our minds off the boredom of our lives"; we learn why people lined up in Belfast to sign the book of condolences - "the queue was short"; and who the most nervous person in Britain was that sunny day in August - "It was Liz [simulates crown]. She was bricking it." For the sheer range of his performance, the tautness and vitality of his language, and the masterful comic insight, David Benson has few peers. And he can sing, the swine. Miss him at your peril..."
Mark Wilson - The Independent
A Xaviera Hollander Production
Stadionweg 17, Amsterdam, Noord Holland - 1077RV, The Netherlands